Our Student Enterprise Conference 2018 has finished with a big bang! This weekend Aston University opened its doors to over 300 students, educators and entrepreneurs on Saturday alone, for what was an inspiring weekend of connecting and collaborating with like-minded individuals. A weekend full of amazing movers and shakers who literally shook Birmingham with a 4.4 magnitude earthquake on Saturday afternoon with their vibrant energy. 
Now you're all homes, we thought we would just take a moment to reflect upon what was certainly a fantastic weekend at #SEC2018.
NACUE, Aston University and the New Beacon Group welcomed delegates, each showcasing their reasoning and passions to support student-led initiatives and student entrepreneurs in the UK and worldwide.
Returning to Aston University after 7 years of touring around the UK, NACUE's CEO, Holly Knower opened this year's conference in the Great Hall, highlighting that everyone should make use of all the 'Creators, Connectors and Captains' that they will meet, creating links to build and establish their dreams. Professor Alec Cameron, Vice Chancellor and Executive Professor at Aston University, shared the universities passion and dedication towards developing an entrepreneurial culture at the university amongst both staff and students.
Professor Mark Mabey, Deputy Chief Executive Officer at the New Beacon Group and this years headline sponsor, shared the organisation's vision to develop a 'Centre of Excellence' for student entrepreneurs in the heart of Stafford. He advised that they were exclusively offering #SEC18 delegates the opportunity to be the first entrepreneurs to be able to access these amazing services, space and networks to really launch their businesses. Remember to take up this great offer and connection.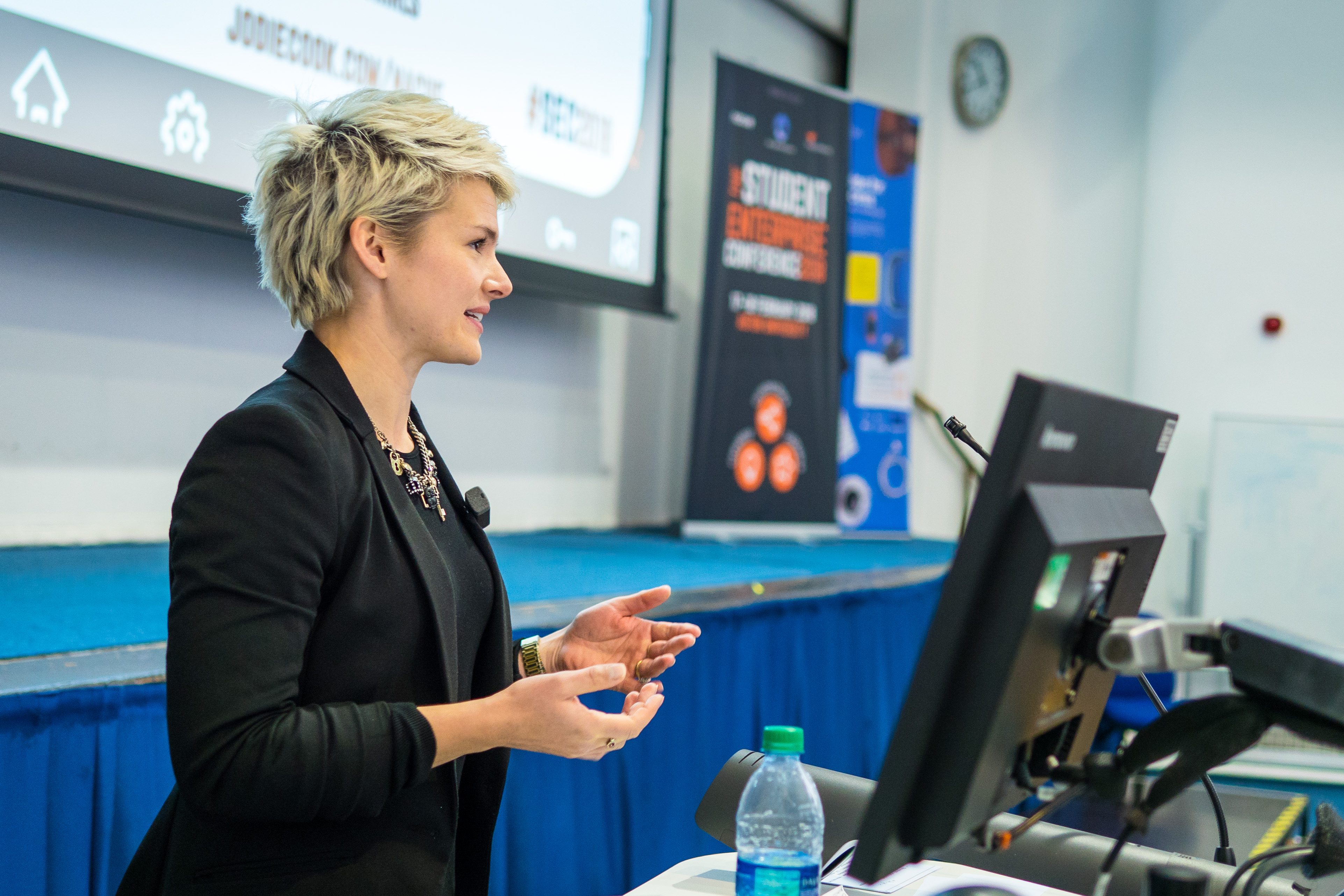 Introductions over, our first keynote speaker took to the stage, a TEDx speaker, Jodie Cook, Co-founder of Clever Tykes. Jodie's mantra is to 'say yes' and delighted the audience about her own entrepreneurial journey and how simple things such as the 'yes' word has opened many doors for her. 'Every single opportunity has to be a HELL YEAH OR NO... weigh it up, anything rating between 8-10 is definitely a HELL YEAH'.
Sharing the strengths of being persistent has enabled Jodie to meet some entrepreneurial influencers that has enabled her to take her businesses to the next level. Jodie left this years delegates with her favourite Greek word 'Euthymia' - encouraging students and entrepreneurs to believe in themselves, trust they are on the right path and not in doubt'. 
A HUGE thank you to Jodie for opening this years #SEC18 with such an aspirational and inspirational presentation to kick off the conference.  
Grabbing a quick coffee en-route, delegates decisively pondered their programme choices before launching into the first round of breakout sessions. Delegates were introduced to a practical workshop led by Kallum Russell, founder of Acorn Enterprise, on 'Business Model Canvas'. We were amazed by how a sheet of A3 paper and multiple coloured post-it notes could revolutionise a business concept in a matter of 50 minutes. Amazing stuff!!
Upstairs, leading professionals from around the UK took to discussing 'Intrapreneurship vs Entrepreneurship' and how the generation of these terms are changing the approach of universities. Kindly chaired by David Williamson of Kent Business School, he shared his own insight as he introduced his own stance on how Enterprise and Entrepreneurship has been embedded at the University of Kent. Our University host representative, Carolyn Keenan shared how the BSeen programme enables student entrepreneurs within the local region to access support to further enhance their startup. 
For many years, we've all asked ourselves 'When is the right time to start?' We couldn't think of a better opportunity to discuss this in more depth than at the panel discussion '20 years old, 40 years old or 60…?' joined by David Atkinson, ex-Managing Director from Yorkshire Meatballs, Charles Radclyffe ,CEO from NetKernel, Louise Broni-Mensah, CEO from Shoobs and Makaela Richardson, CEO from Free the Freshers.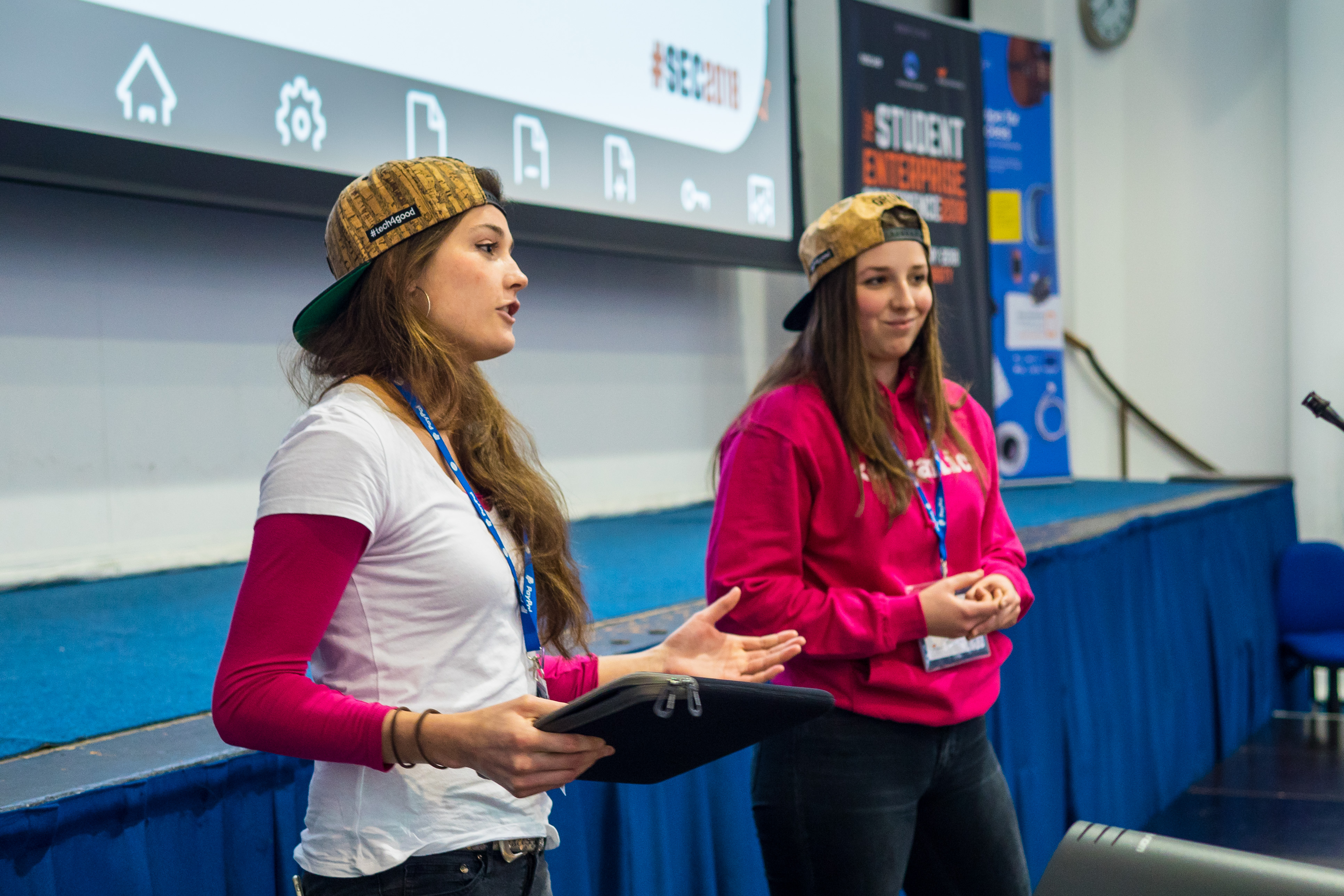 As well as inspiring speeches from budding entrepreneurs, who taught us all that we need to know about starting a business, we also had the    chance to gain practical skills and knowledge from our friends at hatch4good. Who challenged #SEC18 delegates to create a viral campaign on  #zerowaste. The team from hatch4good have now extended the date to submit your amazing viral campaigns on tackling #zerowaste, submit here - deadline midnight, 23rd February 2018. 
A quick turnaround saw the corridors filled with delegates talking to new peers as they moved into the next series of sessions. Our friend David Trayford ran a practical (and yes, it was VERY practical indeed) session on 'Nailing Your Business Pitch'. Within minutes, delegates were thrown together in teams to work on their pitches, honing their skills and fine tuning their pitches, to enable them to deliver a succinct but expertly delivered pitch. 
NACUE's very own Enterprise Engagement Manager, Yani Vladimirova, showcased NACUE's student network's 'Unsung Heroes'. We invited 4 societies to share their trials and tribulations of leading societies, running inspiring events, developing skills and much more. Up first, Milan Mulji, committee member of Aston Entrepreneurs from Aston University, gave his insights on the development of the society during its 10 years, followed by Lulu McNally from Sparks at Southampton Solent University who launched the Enterprise and Freelancing society just over a year ago. Nadia Luisa from The Entrepreneurial Society as The University of Westminster demonstrated a collaborative 'Startup Bootcamp' within their university. Last to present was Kiran Arokiasamy from Manchester Entrepreneurs from The University of Manchester, who got the audience excited over their forthcoming 'What's Next' Conference in March. 
We thought after such an intense but stimulating morning, we would allow delegates a pit-stop to refuel and continue their discussions over lunch in the Tierra Food Court :) Sporadically placed around the room were our amazing exhibitors, keen to engage in conversation to share how their organisations could provide support to the hundreds of budding entrepreneurs that joined us.
The final stream, before we all gathered back into the Great Hall, was in full swing by 14:05. Re-energised and ready for more, students chose from understanding fundamentals of how the use of social media could be targeted to a specific audience with Social B, to the importance of maintaining momentum as an entrepreneur, delivered by Lynn Hord.
We were delighted to be joined by Shadi Radaz from CyNation and a friend from our co-working space at The Rain Cloud Victoria in London. Shadi provided us with an interesting insight of ways to compete within the digital world, 'we as people are always afraid of change' and how we need to find suitable ways to adapt to these changes. Using Facebook as an example and how when they launched the features included were minimal and how their development has enabled them to currently have over 275 features embedded into the platform. He encouraged the audience to 'inspire' and to do so to their clients to be forward thinking to enable investment in their product. Shadi left them with a closing thought 'Inspire them as business partners, not clients'.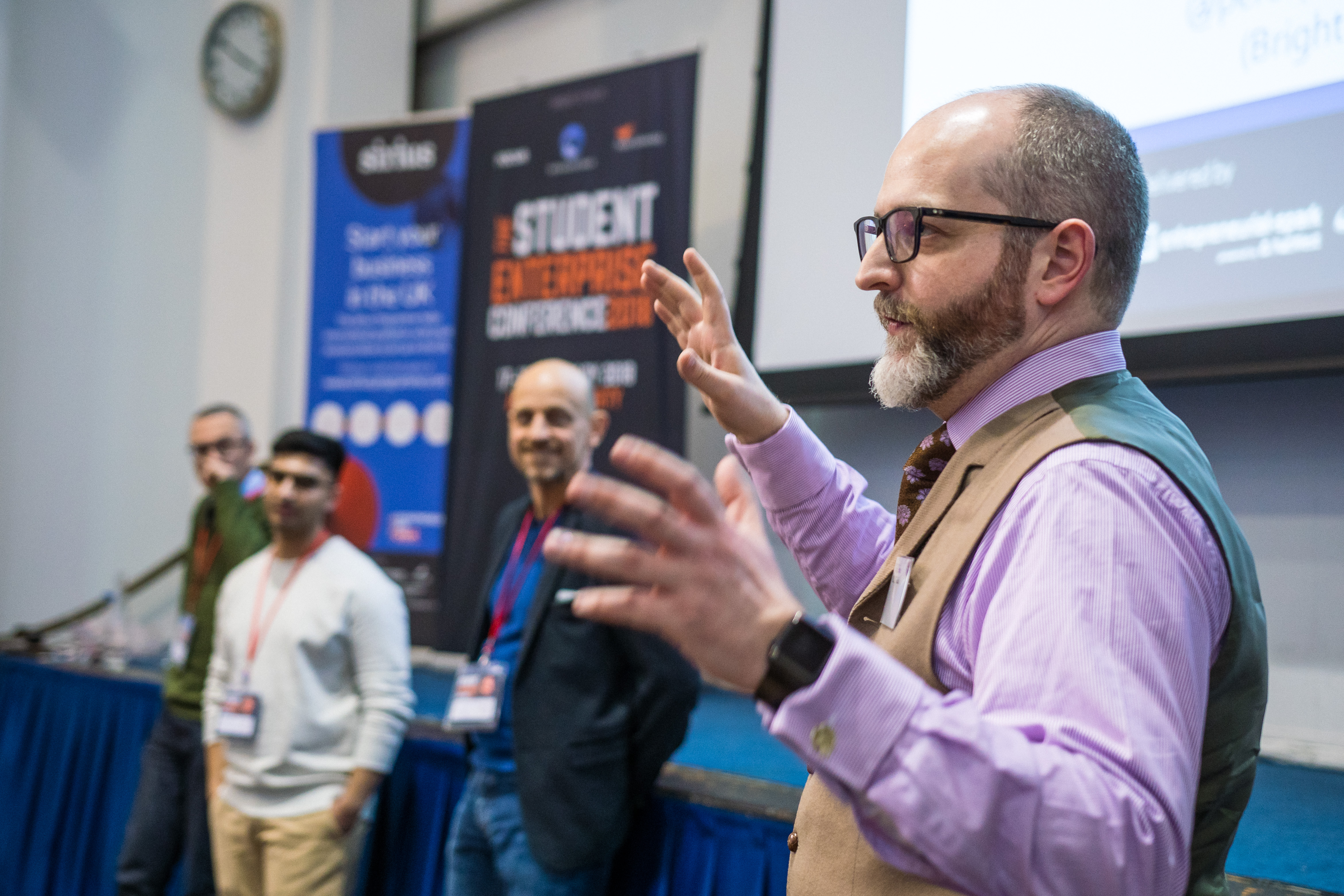 Collectively, we made our way down the stairs once again, to conclude the #SEC18 Day 1. Delegates were greeted by Tim Barnes, founder of The RainGods and Chairman of Sirius New Direction introducing the 5 companies of this years pilot. #SEC18 delegates were presented with the business concepts hearing from the founder of MicroSpray Technologies who is developing high quality research tools to scale particle manufacturing, Link Big the world's first 'ink engine optimisation' for brands and publishers to increase their AOV/ ROI from their mobile assets, EMSOL the first data focused 'Emissions as a Service Offering', enabling businesses to drive interventions, reducing road transport pollution, F&W Insights an internet-of-things technology building digital solutions for the hospitality industry and Percept Imagery developing highly immersive Virtual Reality (VR) experiences for marketing, training & education.
Last but by no means least, to conclude a fantastic day, we were delighted to welcome, Manuel Heichlinger, EMEA Talent Acquisition Manager at LinkedIn, who talked us through 'How to Rock Your LinkedIn Profile'. Manuel explained the strengths of considering your job title, position, organisation and how this should build the basis of your profile. 'Add a photo, that suits your join' statistics prove that individuals receive over 36 more messages and 21x more profile reviews.
Thanks to Manual for joining us at this years conference and sharing his insights as to how #SEC18 delegates really can 'Rock' their LinkedIn profile. Manual has kindly agreed to share this slides and therefore to get access to them, you should email This email address is being protected from spambots. You need JavaScript enabled to view it..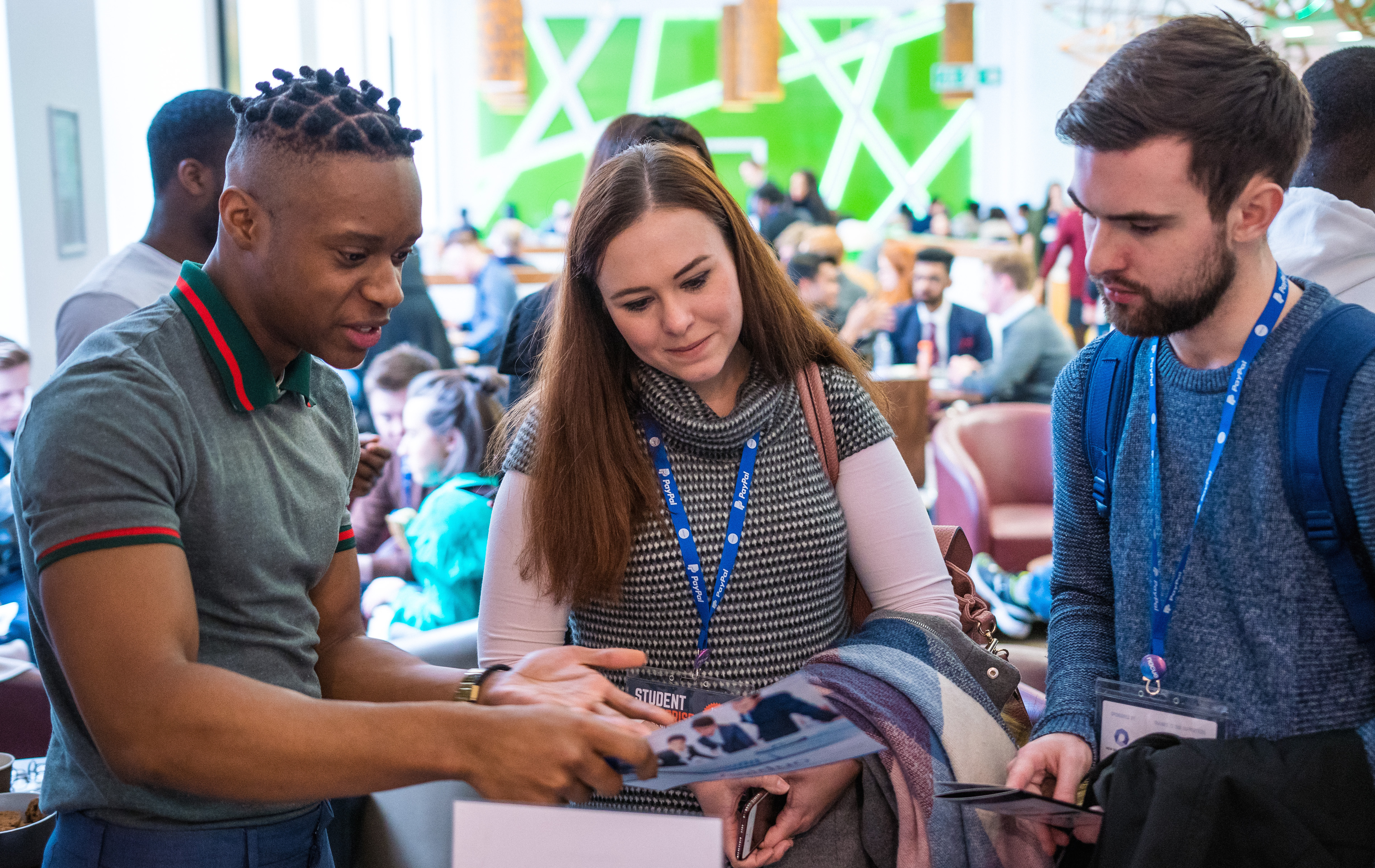 Day 2 kicked off bright and early with students ready for another day of networking, collaborating and knowledge building. 
Learning Lab 1 launched into a vibrant discussion on 'Funding', an area of interest for any budding entrepreneur. Christopher Norris of CrowdPatch, introduced us to the wonder of CrowdFunding which was later validated by Tom Charman and his experience of KOMPAS  and the app's experience on their crowdfunding campaign to raise £400,000. Both Silvia Gaplovska from Startup Direct and Raphael Fassler from the Startup Funding Club shared their insights of working with entrepreneurs too. 
'The "Blank" Tech - what does it all mean?', launched into a lively discussion on the impact of tech startups in the 21st Century. Chaired by Peter Bailey from CircleHealth and with representatives from the sector, including Waffle and MoneyBox. The team from Waffle shared their experience of how tech has enabled them to pilot their technologies offline whilst they are in the development stages. Charlotte, from MoneyBox, explained the importance of having customers onboard before developing the technologies and how this is more powerful to investors when you're ready to engage with them. 
An informative time was had by all attending the discussion on the differences between Incubators and Accelerators, as to the purpose, as well as the differing types of support available, from various providers. The New Beacon Group shared their services and their ambitious plans to be the next Centre of Excellence for student entrepreneurs.
Delegates of #SEC18 joined all together for one final time, firstly for an interactive 'Business Surgery' facilitated by Tim Barnes with support from Christopher Norris and Silvia Gaplovska, inviting members of the audience to give an elevator pitch of their business startup to the audience and panel. We heard from Hayden Taylor, Managing Director of UnLoc Enterprise Academy about the challenges of costly recruitment for small organisations and Tim Barnes shared his experience of recruiting predominantly via LinkedIn over the past few years. Other discussions were around the process of licensing characters, shareholder agreements amongst founders and we're delighted the Business Surgery gave entrepreneurs the opportunity share their own business concepts and gain feedback from industry experts.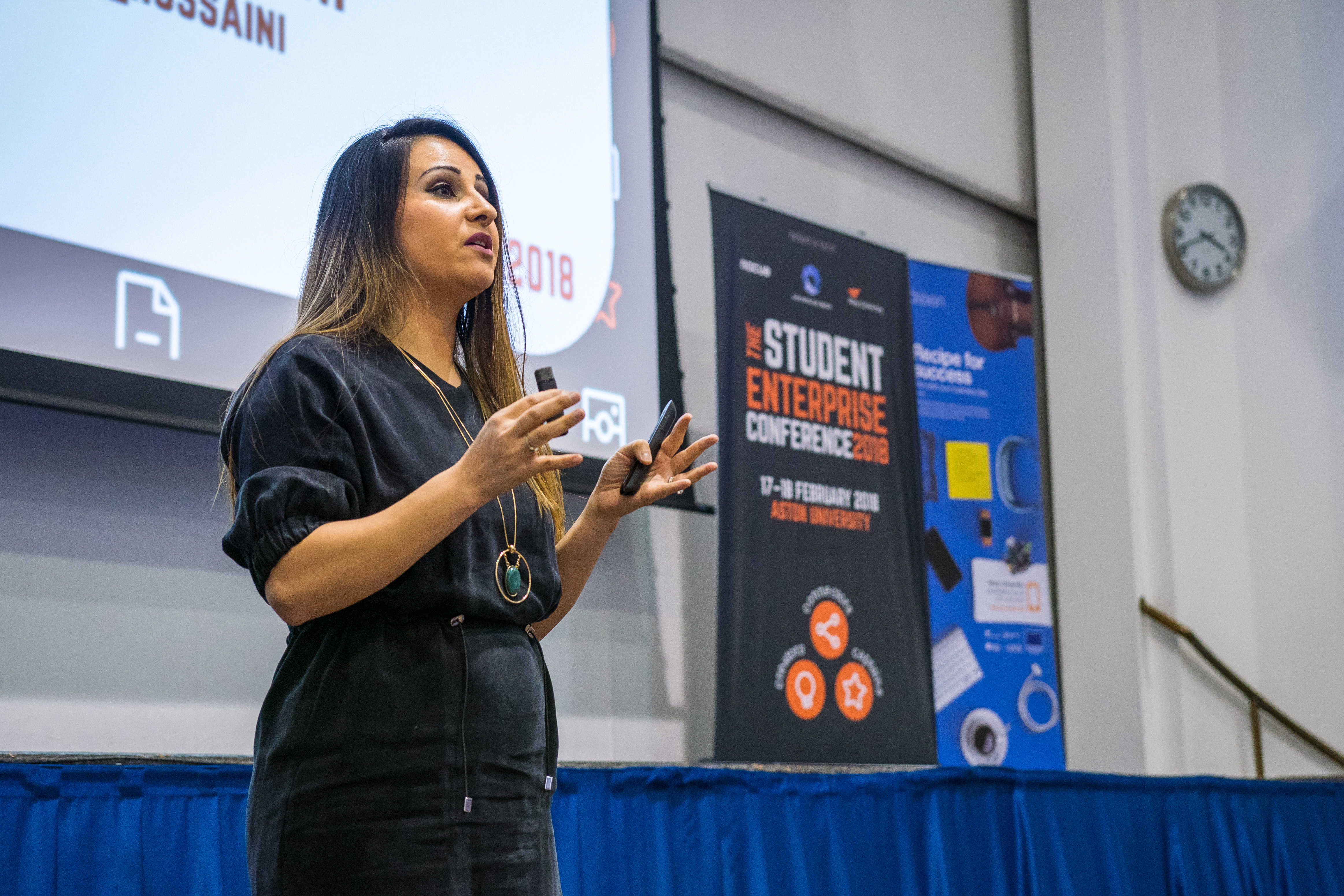 Melody Hossaini took to the stage to conclude this years conference with her inspiring closing keynote speech discussing 'The Future of Business' and how young people need to take change in their stride. She said that 'no distinct ownership' seemed to be a commonality of the most successful businesses worldwide and was this the way forward, which provided a parting 'food for thought'. 
Melody shared the top skills you need in order to succeed in the 4th industrial revolution, such as critical thinking, negotiation, people management...to list just a few!! 
A big thank you to Melody for closing this years #SEC18! 
On behalf of NACUE we would like to thank our hosts, Aston University, our headline sponsor, The New Beacon Group, as well as all our other supporters. Most importantly, we would like to thank all of this years delegates for joining us. We are looking forward to hearing all about your stories of #SEC18 , so don't forget to share your pictures, highlights of the weekend and blogs with us too!
Also, would like to thank our exhibtors;  
Sports Easy :- is a sports booking platform with the aim of connecting all leisure and sports centres in the UK via one web application. 
SkillBranch:- is a platform allowing your organisation to actively promote your work amongst UK students in a unique way, by taking a lead role in identifying and developing industry-specific knowledge and practical work skills. 
Simply Kreative :- A digital agency that empowers businesses of all sizes to standout. By combining expertise and passion for creativity and technology they develop growth-driven digital marketing strategies, admirable branding, and scalable digital products. 
Talent Trending :- Talent Trending is an online platform that helps students and graduates to gain industry exposure by showcasing their talents in a variety of different ways. 
This email address is being protected from spambots. You need JavaScript enabled to view it. :- Equipped with digital marketing enthusiasts and strategic consultants they effectively highlight where you are now and the tools that can be used to take your brand to the next level. 
Mechanlink :- Mechanlink is the go-to service for vehicle ownwers and mechanics being a direct link to the mechanics, providing facilities which allow users to choose their mechanics, post jobs in real time and get the best price, all free of charge. 
Cosesano :- is a software development company based in Birmingham that provides innovative high-end web and mobile application design, development update and maintenance services to small businesses, individual or start-ups. 
We can't believe this year's conference is over but as we are already preparing for the 2019 conference at the University of Kent, it won't be long before we meet again at #SEC19 on 23rd and 24th February 2019, so join us for just £5, valid until 27th March 2018. 
Follow us on Twitter and like us on Facebook for all #SEC18 related news. You can learn more about our upcoming events, including about the forthcoming launch of Varsity Pitch here (Register your interest).