Yesterday, Wednesday 18th October 2017, some of the UK's brightest entrepreneurs headed to Wayra in London to pitch for their place in the NACUE Varsity Pitch Semi-Final. The Varsity Pitch Competition invited students and graduates to pitch their business ideas for the chance to win £10,000 equity free cash. 
Thirty competitors across six categories had just two minutes to pitch and four minutes of questions in order to impress our esteemed judges with an array of expertise and specialisms. The competition is now in its eighth year and the quality of the pitches and ideas were higher than ever.
 Genuine Innovation
Opening this year's Varsity Pitch Competition Semi Finals was the Genuine Innovation Category. The morning kicked off with the founder of Filthy Clean, a revolutionary nano-coating technology for the motorcross industry.
Next to take the stage was Haus Bots, sharing their ambition to automate the construction industry, followed by Motus Innovation Ltd who shared their passion in supporting the rehabilitation for those affected with strokes. Second Opinion gave an insight into their new application to improve communication between clinicians and medical staff. Recoil were the last to take to the stage in presenting there 6 spring, innovative knee pad product for manual workers.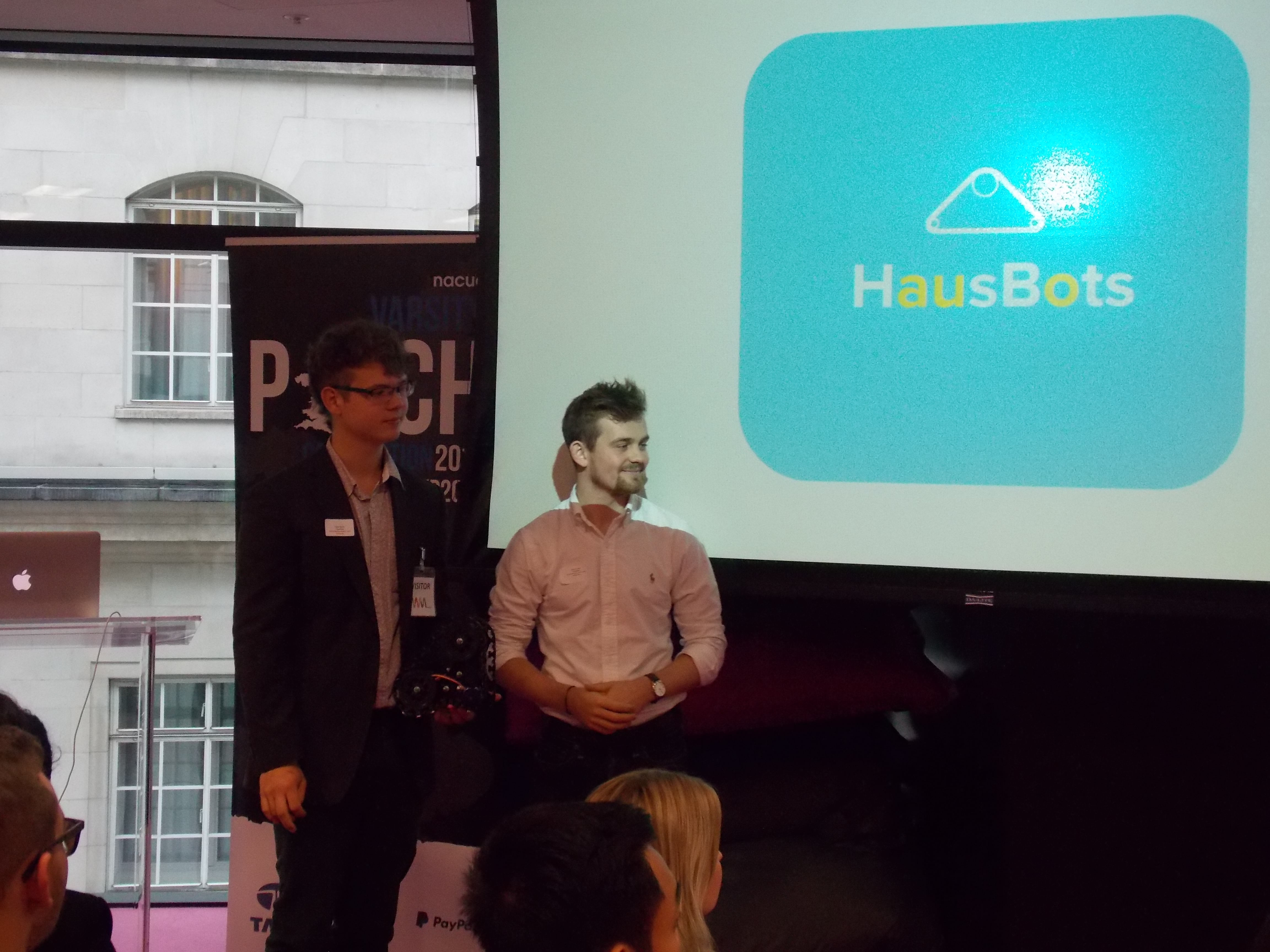 After difficult deliberations, the judges, Corinne Fitzgerald, Stephen Kramer and Marian Helou, chose HausBots from Loughborough University as their winner, who will proceed onto the finals on Monday 13th November 2017.
---
Ideas
Next up were our 'Ideas' of early stage entrepreneurs, looking to progress throughout the competition to strengthen their business concepts. Maciek Kacprzyk pitched a new artisan, ethical and healthy juice product Get Wonky, Nadia Krombi and team are developing an online fashion and lifestyle video magazine Indivisual Magazine, Mohd Muzafar Shan pitched his final major project 'Introe', unique swimwear designs created by emerging artists worldwide. Vladislav Antcupov is using technology to provide mobile personal trainers in a fast, easy and efficient manner, whilst co-founder of SPKTRA, Sumaï Bartrand, introduced an innovative technology for a nail polish brand and we heard about Roam Telecoms grid technology for adventurers.
After much deliberation and discussion with NACUE to allow them two finalists (was worth asking!), it was Introe who overall wowed the judges with their company and who will be representing the Ideas category in the finals.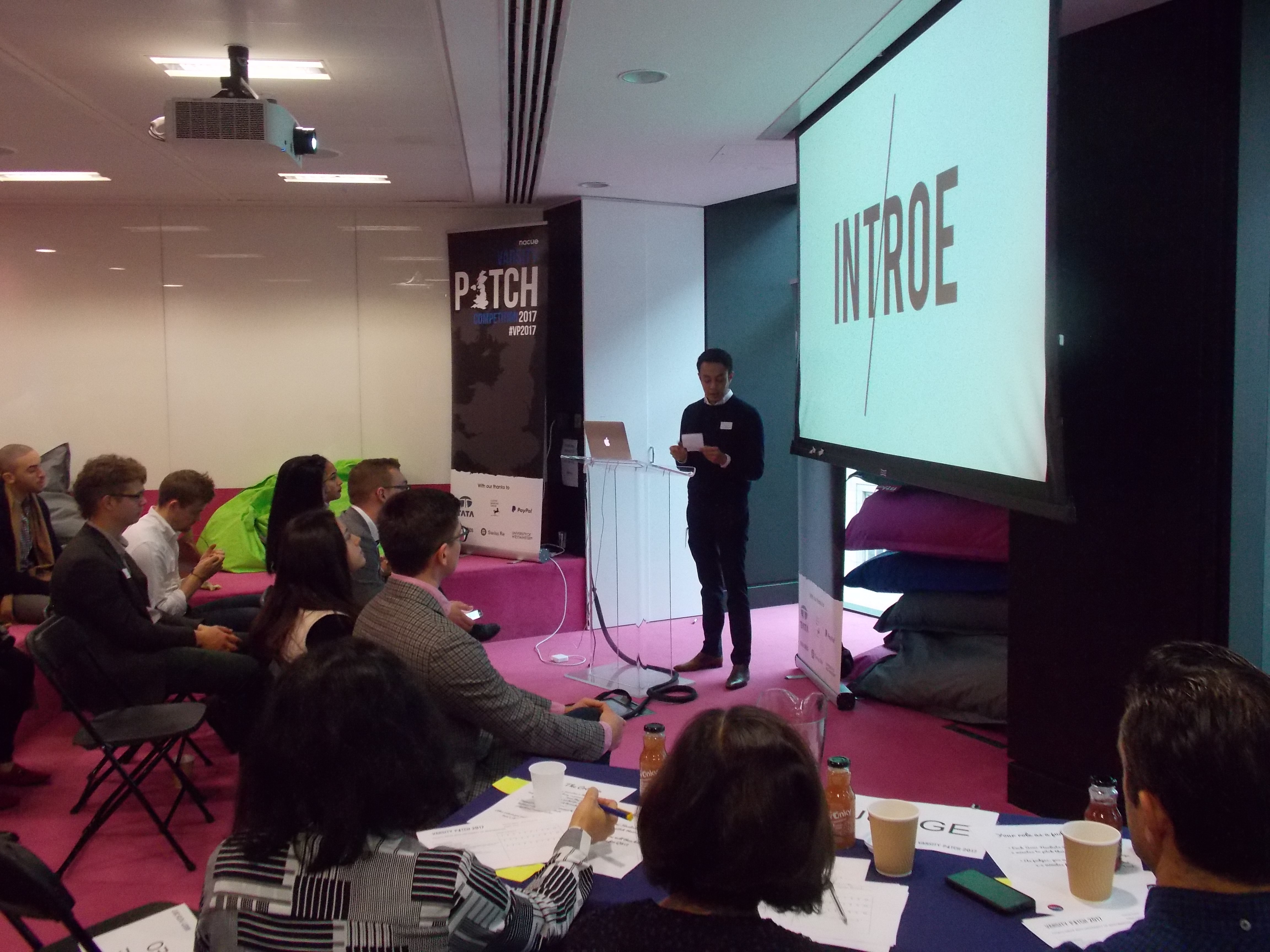 ---
Digital and Technical
Digital and Technical sponsors the Rain Gods, were offered the final morning presentations from Activated Ceramic Membrane (ACM), CortiCare, LightFi, Motus Innovations Ltd, Solely Original   all fiercely competing for a spot in the finals with HausBots and Introe. Co-Founder Stephanie Hodgson of Motus Innovations Ltd, from Imperial College London, blew the judges away with her knowledge and passion and was crowned the worthy finalist of this year's Digital and Technical Category.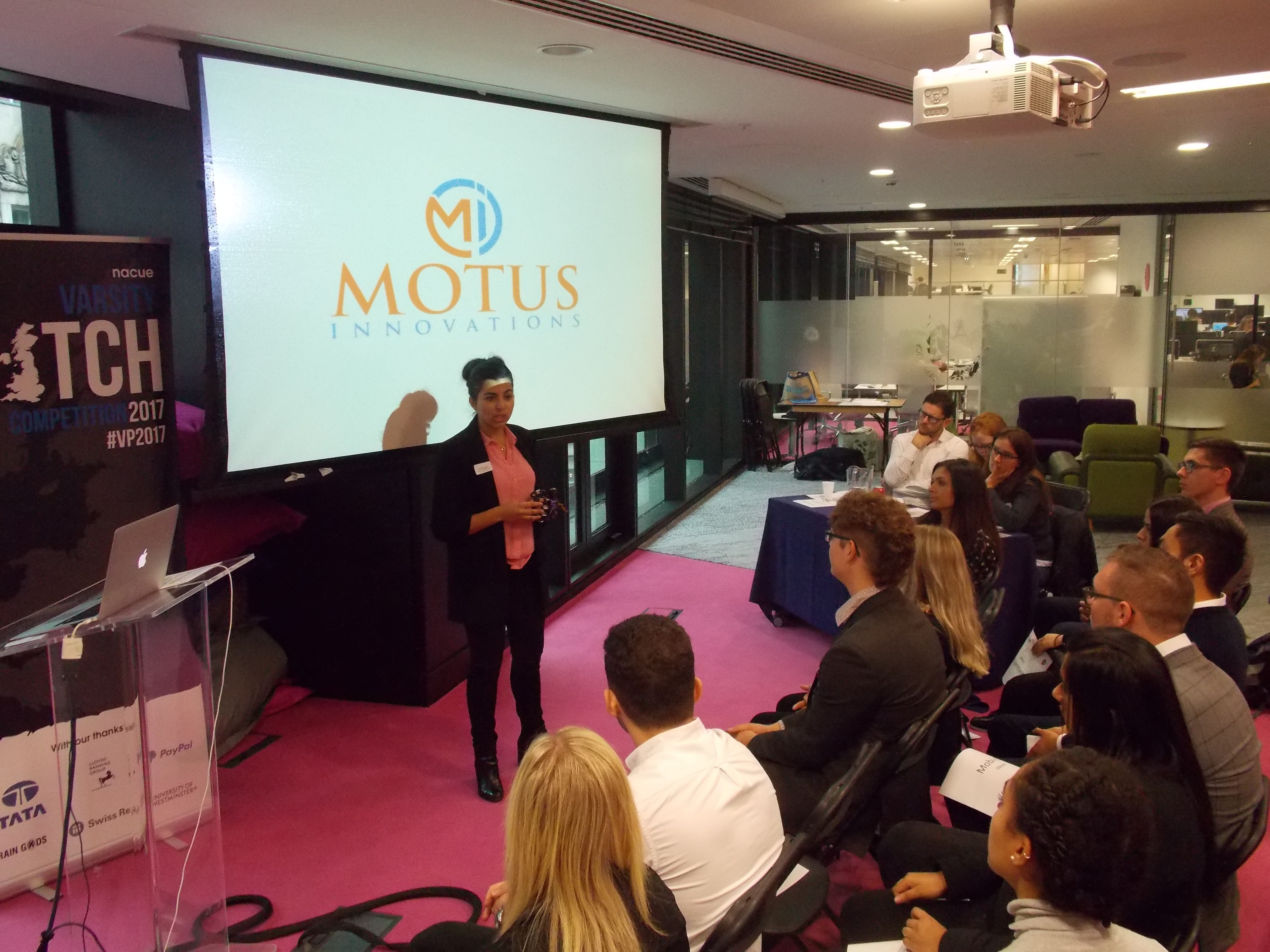 ---
 Creative and Design
The Creative and Design Category sponsored by PayPal next took to the stage, showcasing a combination of startups with tangible products and online services. Bomb Petite impressed the judges with their compelling need to increase the availability of 'petite' clothing for 50% of women within the UK. Revr gave a sneaky peak as to their innovate software, creating virtual tours for home sellers. Jenny Evans Designs shared her passion for nature through her intricate design company, followed by two online platforms Talent Tending and Waffle.
The judges, Tom Benson, Doug Parizeau and George Kartakis, were incredibly impressed by all the pitches. Bomb Petite from Brunel University, were highly commended for their pitch performance and will be proceeding onto the finals.
Nicola Longfield, Director of SMB and Partnership at PayPal shared her thoughts on their finalist: 'Bomb Petite best articulated the market opportunity available to them and had a coherent plan for carving out their piece of that market and have already taken tangible steps to achieving just that. Jenny was a highly engaging presenter and we believe she has a fantastic opportunity to go all the way and win this competition.'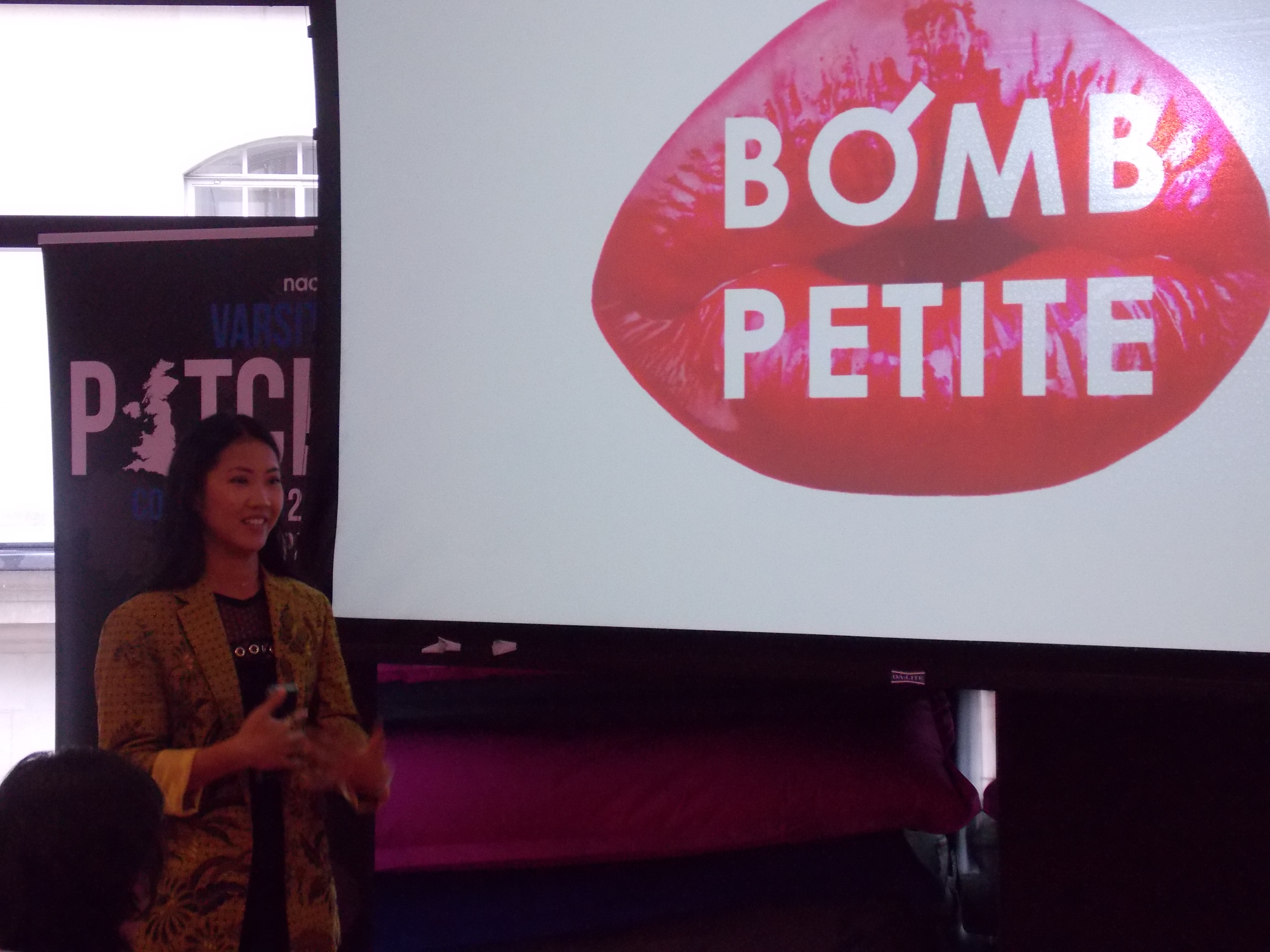 ---
Tata Social Impact
The Tata Social Impact category was the most competitive category of all, with the highest number of entries.
Biohm shared their revolutionary construction system, Triagomy and later  Climate Edge gave an insight to their solution in providing framers with the key information needed to adapt to Climate Change in the most effective way. Educase gave a  demonstration of their prototype to provide better educational provisions for young people in Nepal. Founder Robert Patterson of ORB Innovations, shared his own experience and need to monitor and detect concussions within sport and is developing a small wearable device to counteract this. Last but not least, Twipes took to the stage with their water dispersible wet wipes.
It was a pleasure to welcome Kersti Klami, Matthew Sykes, Tony Hambro to judge both the Tata Social Impact and Tata Disruptive Business categories.
Tata were seriously impressed by all of the entries. However, after much needed deliberation, Twipes from City University London secured a place in the Grand Final.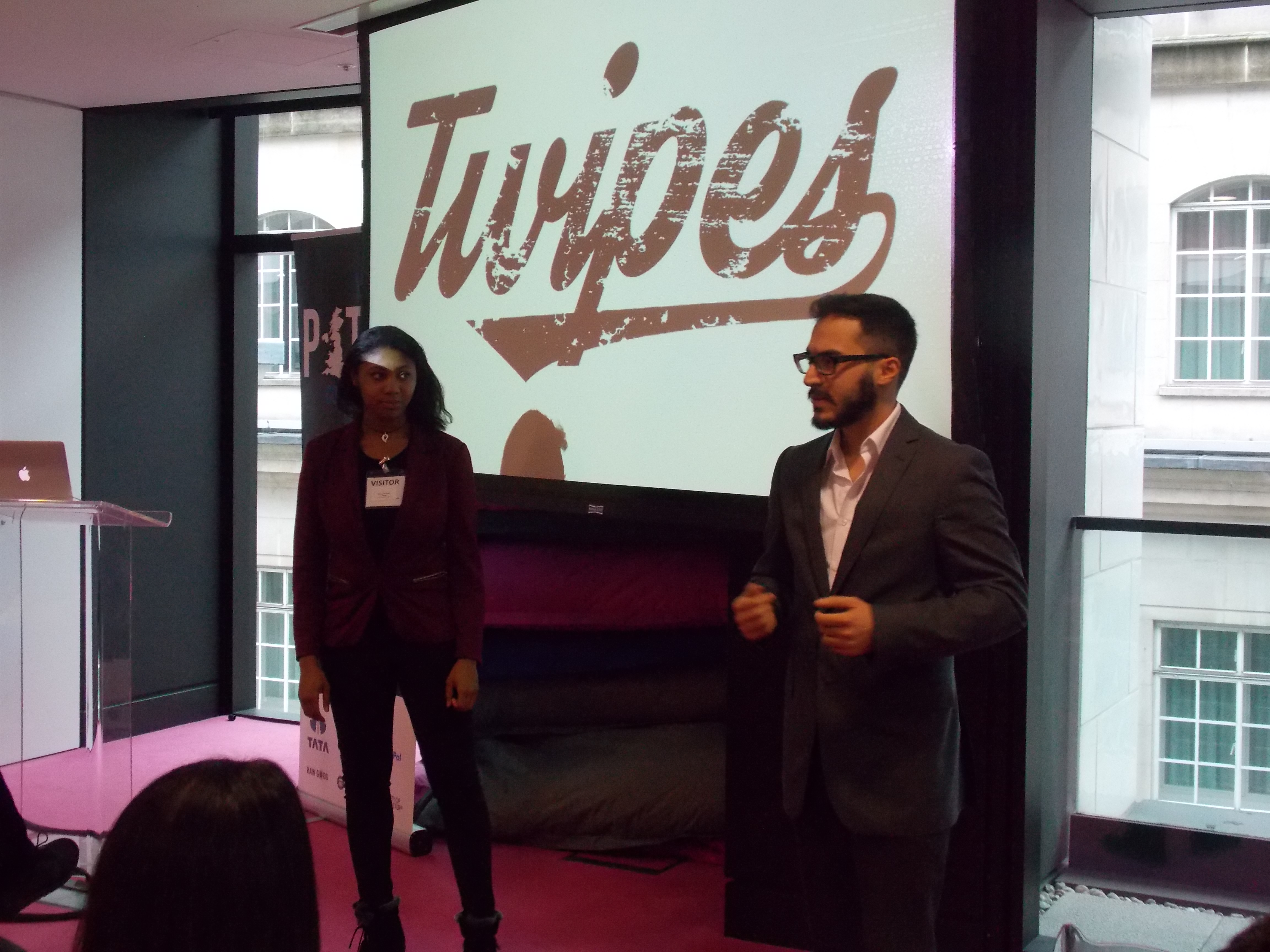 ---
Tata Disruptive
KOMPAS were first up to pitch within this year's Tata Disruptive Business, followed by Ostique a unique medical appliance to improve the quality of life for people with a stoma, Savi Technology showcased their new technology enabling users to link their reward points systems with a simple link to Mastercard/ Visa cards. Last but by no means least, Syrona convincingly shared the need to support women to be able to better manage their own reproductive health.
After some serious deliberation and debate, Tata were pleased to announce Savi Technology from the University of Nottingham, as their category winner.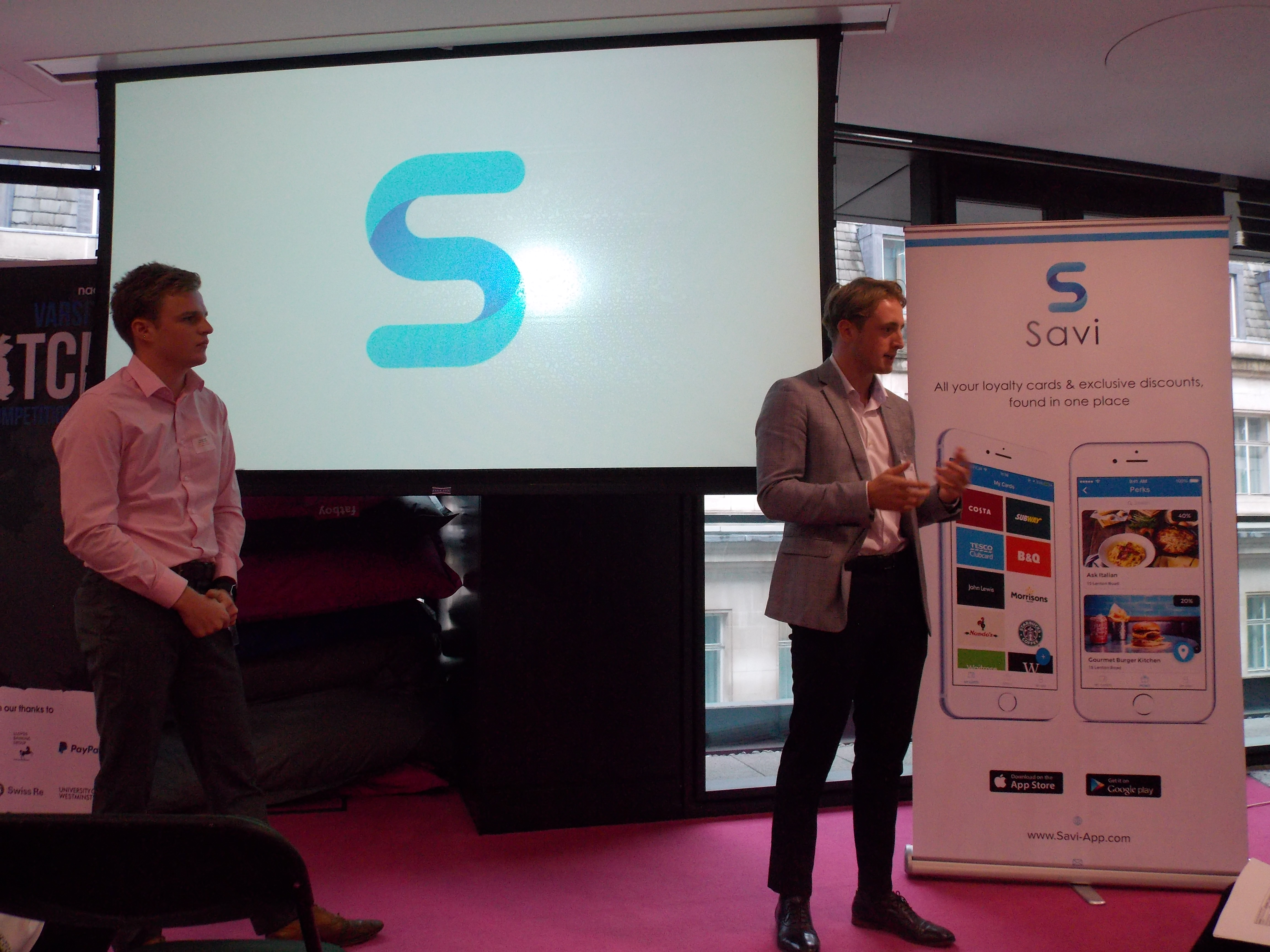 NACUE would like to thank Tata for all of their support, our category sponsors University of Westminster, Swiss Re, PayPal, The Rain Gods and Lloyds Banking Group, the judges for giving up their valuable time and most importantly our brilliant competitors.
All finalists, including Air-Card who won the Lloyds Online People's Vote with 3989 votes, will be honing their business plans and pitches at our Bootcamp on 31st October before the Grand Final on the 13th November at the Digital Catapult in London. If you would like to join us, please register your interest at This email address is being protected from spambots. You need JavaScript enabled to view it..