First of all, I just want to say thank you to NACUE for a great conference and for choosing the University of Lincoln as the host venue this year. It's such a privilege to host such an amazing event and I can safely say for both myself and my enterprise society members that we had a great time and learnt a lot from it. For sure I will be attending next year's conference so look forward to it.
NACUE Student Enterprise Conference 2017
So I joined our Lincoln Entrepreneurial society back in September and it had only been set up last April so when I heard that we were hosting the conference I was both surprised and extremely excited. Some of my members attended last year's conference and said how great it was so we were all looking forward to it. It was great that we were also asked to deliver a session as part of the Society Stream so definitely an air of excitement in the lead up to the conference.
There were some really good workshops during the course of the weekend and I originally was going to attend all of the sessions in the Society Stream, sessions ran by enterprise societies across the UK, with the aim of connecting with them and learning from them and getting ideas for our society. However, being an aspiring social entrepreneur, I was pleasantly surprised to discover that there was a good social enterprise presence at the conference with Stand4Socks as one of the exhibitors, The Inspirational Learning Group running a workshop, NUS Student Eats talking about setting up a food based social enterprise, and of course, Bruce Walker with the closing keynote. So I ended up going to the workshops by The Inspirational Learning Group and NUS Student Eats but I did manage to catch one of the society sessions, run by Fish on Toast, the enterprise society from Southampton, and I was glad I was able to go to it. Fish on Toast, they've been running for 15 years and our society less than a year so hearing how they've done things and kept things going was really good, and I even had a 20 minute chat with them afterwards, during lunch, and they were happy to take the time to answer my questions and give me advice for our society, so I really appreciated that.
For me, it was great to meet the guys from The Inspirational Learning Group and hear their story. I didn't realise at the time until it appeared on one of their slides that they were Social Enterprise Entrepreneurs of the Year (British Entrepreneurship Awards) so I was glad I was able to connect with them and get advice from them. The person I was most looking forward to seeing was Bruce Walker but unfortunately trains in Scotland conspired against him meaning he had to deliver his keynote via Skype. It was still a great talk and his story was one I found extremely inspiring and he had some great tips such as how to email someone in the right way. The biggest takeaway from his talk was when he said that purpose driven businesses have a competitive advantage and how businesses can make a huge difference... for me, I truly feel that business is the greatest force for the good.
What I took away from the conference: making those connections
The best thing about conferences is meeting people and making those connections. Meeting delegates in the workshops, the facilitators and speakers, the team at NACUE, it was great to be able to speak to them all and connect. It was also good to get to know some of the delegates. In the evening after the first day of the conference, we invited delegates to join us for drinks at one of the pubs on campus and it turned out to be a great night. I remember connecting with delegates from Plymouth and Westminster universities as well as playing pool against a guy from De Mondfort University, it was great! The best connection I made at the conference was an unexpected one: it was during lunch on SunSunday, a guy came up to me as I was heading up to prepare for my society session. He introduced himself (he's the co-founder of Unique Insights and was a speaker in one of the workshops) and asked about me and then said that he has contacts for me and so, in turn, I offered to connect him with my university (Lincoln). So I emailed the Pro Vice Chancellor and Director of the Business School and he liked what he heard and managed to set up a meeting between them. He returned the favour and got in touch with a university I want to work with as a potential client and made the introductions. Networking is king as they say.
I took away many things from the conference: contacts, knowledge, tips and advice, ideas and inspiration, both for my upcoming venture and for the society, and I hope my members and all of the other delegates took something useful away too. I very much look forward to next year's conference!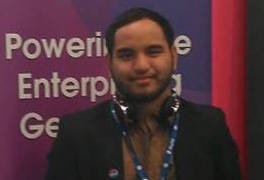 Anthony Veluz 
Lincoln Entrepreneurial Society Lead and Social Enterprise Guy
Anthony is passionate about business as a force for good. Law graduate turned social enterprise guy: I have been working in social enterprise for a number of years whilst at university and beyond, for a number of UK and international social enterprises. I am currently taking part in an Active Citizens project with The British Council, GiveMeTap, Flying Futures and Snact, as well delivering social business challenges on NCS for Spring and Summer programmes this year. Also, soon to launch my own social enterprise.