After running Harvey Morton I.T Support for the last three years, I've gained so much valuable life experience and I've learnt that you can't always have things the way you want to. Therefore, we must master the art of losing. In this blog, I'll be discussing some of my experiences and why it's important to let go of things that just haven't worked out, even though it might be difficult in the first instance.
First of all, I should say that when I first started secondary school, I lacked confidence. I was nervous and fragile as a result of experiencing lots of bullying in primary school, and whilst I have continued to experience bullying through secondary school and sixth form – running Harvey Morton I.T Support has allowed me to regain my confidence and take myself away from lots of negativity. I first became interested in business after a competition called 'The BiG Challenge' launched in my school back in 2011. The competition allows teams of secondary school or college students aged 11-19 to start-up a business from a £25 start up loan and then the judges see which businesses have been most successful over two school terms. The competition is funded by Sheffield City Council and the European Regional Development Fund, it runs across Sheffield and the surrounding region. My first business was a key-rings and accessories company called 'Key2Unlock' and I ran this with one of my close friends as a partnership. Key2Unlock was a huge success in The BiG Challenge 2012 and we were lucky enough to win 'Best Presentation to Judges' and '3rd Prize for the KS3 Category' at the grand finals. I can still remember attending my first BiG Challenge Awards Evening very clearly, I was emotional and excited, but I felt like I had accomplished something. It was great knowing that we'd both made it to the finals, especially after many teachers in my school didn't think we'd make it to the end of the completion. That said, if it wasn't for the support of my enterprise co-ordinator, form teacher and a local enterprise champion for Sheffield City Council – we'd have never been allowed to enter the completion in the first place, but they believed in us and I wouldn't be where I am today if they'd not allowed me to take the first step on my journey as a young entrepreneur. Key2Unlock continued to be a success in The BiG Challenge 2013, where we won 'Best Website Content'. It was at this point where I thought it would be a good idea to set up a business which was better suited to my personal strengths and talents, so Harvey Morton I.T Support was born.
Since 2013 when I decided to go it alone and set up my I.T support business, I've had lots of success and I've also made lots of mistakes. Although, I've learnt so much about myself and I've seen myself develop as a person. The support I've had from my friends and family has been incredible and I've enjoyed meeting so many fantastic people on my journey so far. The most important factor if you're setting up a business alone though is to make sure you believe in YOURSELF. If you don't believe in yourself and aren't passionate about what you're doing, then your business will never be a success. If no one around you believes in your idea, you can still be efficacious through a little self-belief and nothing is impossible. Personally, whilst I enjoy getting recognition for my business success, I love gaining new experiences above anything else. You should always give any new ideas a try as long as you believe they are feasible.  
I've accumulated so many precious memories from recent years, some of which have become my dearest possessions, whether they are to remind me of good times I've had, or to warn me of a point where I've learnt from mistakes I've made so I don't make them again in the future. Memories can keep your experiences alive and so can writing. One reason why I've decided to write this blog is because I can use my experiences to help others, whilst also making it available online so I can look back on it in the future and remember how I felt at this particular point on my entrepreneurial journey. Sometimes, you don't realise you are creating memories and have no intention to do so, but certain experiences can stay with you forever. Some of my most precious memories from recent years include winning the award for 'Biggest Profit Made' two years running in The BiG Challenge, travelling to many fantastic destinations and networking, taking the necessary steps to expand my company, speaking at The Student Enterprise Conference 2016 and being overwhelmed at the response and climbing a rollercoaster with one of my closest friends. These moments will remain with me forever and whilst I have so many positive memories, I can't help but feel saddened when I think of particular points on my journey that haven't gone to plan.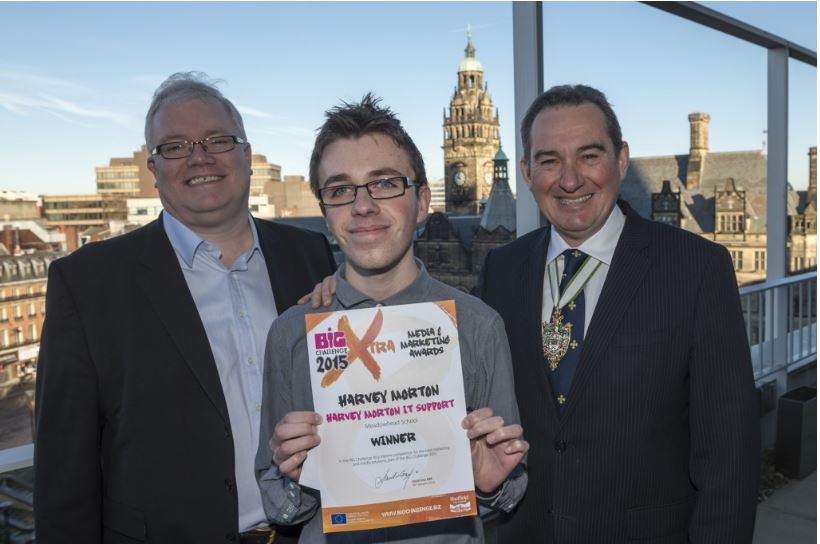 L-R Richard May, Lead Partner DLA Piper LLP, Harvey Morton, winner of the interim media and marketing awards and David Grey MBE, the Master Cutler.
Sometimes we lose something that is so precious to us, whether it's an idea that never quite worked out, or a lost friendship. It can be so hard to let go and sometimes we try and hold on to something that is already lost, in the hope that it might work out again. This brings me back to 'the art of losing'. I believe that everything happens for a reason, if something is meant to work out then it will do but if something isn't meant to be then we must accept it, even though it's upsetting. It's important that you have a good network around you, filled with people you can turn to for support at difficult times. Everyone comes into your life for a reason, but we all have to learn that not everyone can stay with you on your journey, so make the most of using your support network and learn who's there to stay and help you. There are so many people who have helped shape me into the person I am today and I'm so incredibly lucky to have lots of fantastic friends who I can turn to when things aren't going too well and my family are also very supportive. Don't assume you've got to have a large network of friends and contacts to be happy and successful because that's not true at all. Personally, I think it's better to have a smaller network and focus on the people who are most important to you, then you can build stronger relationships with them. It's important to evaluate you're network regularly and think about any positive steps you can take to improve your network. Don't surround yourself with any negativity, stay positive with positive people!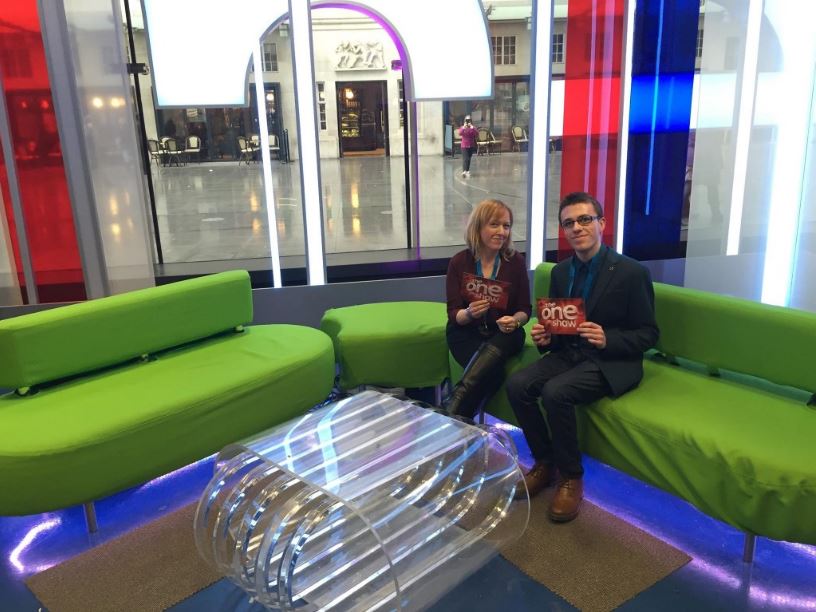 Harvey on the One Show Sofa with his Mum
It is important that you go to networking events whenever you get the chance and if you get invited to something – don't turn the invitation down unless you have to. You don't know who you will meet or what these people can offer you in the future. When I went to my first networking event, I found the thought of going up to someone who I didn't know and telling them about my business extremely daunting, but now when I look back – I realise that it's one of the best things you can do because some of the people I've met whilst networking are now good friends, trusted colleagues and they are all helping me to build my future.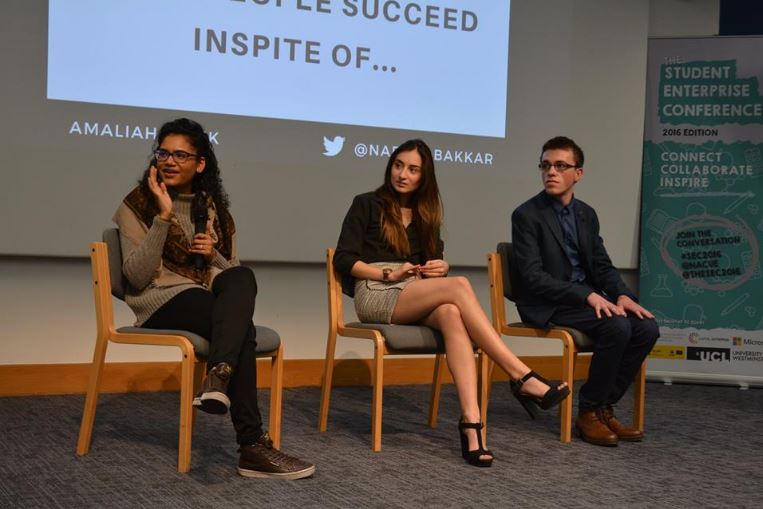 Harvey speaking on a Panel at SEC2016 with Julieta Ose and Nafisa Bakkar
Live in the moment and don't look back. It's okay to hold on to precious memories but it's also important to live in the present. If we don't master the art of losing, our perceptions of ourselves can change because we are always looking back rather than looking towards what the future holds. I find that smartphone apps like Timehop can be a great way for you to start each day off positively, the app allows you to look back on previous social media posts from each day and it can often remind you of events or experiences you might have forgotten about. Log any important milestones or happy moments on social media, it doesn't mean you have to share everything online but it can be a positive method for keeping memories secure. I'm often so busy that I often forget what I've done on a weekly basis and if you're the same – don't beat yourself up too much, just stay positive and focused. Treasure what's important to you and use your previous experiences to enhance any future actions, in the end you will succeed!
Don't forget, you can see Harvey speak about his experiences as a young entrepreneur at our Student Enterprise Conference in March! Don't miss out, buy your ticket today!