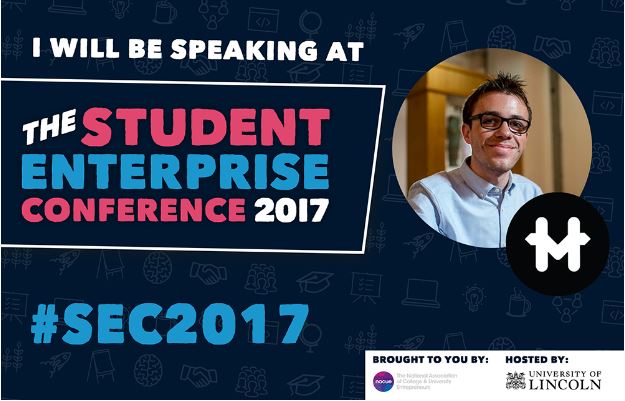 Harvey is speaking at the Student Enterprise Conference in 2017, and has written this post as part of a blog series looking to support and inspire young people as they balance their business responsibilities with schoolwork / coursework and still trying to have a social life!
2016 was one of the best years of my life so far. I did lots of travelling, went on some incredible adventures, cultivated wonderful friendships, learnt new skills and expanded my business. Although last year didn't come without it's struggles, I was stressed throughout the summer and felt unable to just relax and be me due to the pressures that running my business brought with it and I was nervous to start my Business and Enterprise Management degree at Sheffield Hallam University. I sometimes feel as if we can become complacent, naive, a little indestructible in life when everything goes our way. I often found myself in the quiet times feeling incredibly grateful but a little blasé about how great life was and how things just seemed to fall into place. It wasn't until I looked at myself and noticed I'd become so wrapped up in running my business, that I began to see things falling apart. After running myself down last year, I thought it would be good to take a look at the year ahead.
We're now at the start of a brand New Year and 2016 is behind us. I have a fantastic business that I'm so proud of. A small group of incredible humans I call friends that I had no idea were capable of such patience and kindness. Two parents and a brilliant sister who love me more than life itself and who I'm as closer to now than I have ever been before. And me. A new version of me that's stronger, calmer, less stressed, less worried and so excited for what comes next.
If you want to try and make your 2017 the best it can be, here are five things you could do to enrich your life and fill the year ahead with wonderful things:
1. Write lists 
When I feel down or if I'm just having a bad day, I write lists. Lots of lists. In a little notebook that I always carry with me. Rather than thinking about what you're not happy with in your life or wishing for things you don't have, why not take a look at what you've achieved in recent years? It really does help. I started the list called 'What I've Done'. I realised that over the last four years I've achieved so much, I've done so much, I've grown so much and you know what? It's all been me. It's all been possible because of the incredible support I've had around me.
2. Call more people and meet them for coffee
We all spend so much time on our phones, so when someone pops into your head, why not contact them and arrange to meet them for a coffee? Sometimes a text or a Facebook message just isn't enough, it's better to pick up the phone and have a good catch up with someone you've not seen for a while. Meet them for a coffee and create plans to look forward to.
3. Set some time aside for yourself every day
It's important to make sure that you have a couple of hours at the end of each day to take yourself away from any stress and fill it with things that you love. Last year, I often found myself responding to emails late at night if one came in whilst I was trying to relax. However, if you're watching some TV or out with your friends, leave your phone out of reach, don't let it distract you. There's always time to respond to any messages you might have later.
4. Forget the New Year's Resolutions
I don't believe in New Year's Resolutions because if you're going to change something, why not do it now? There's no point in waiting until January 1st to change something about yourself if you're not happy with it. You'll feel much better if you do it straight away.
5. Have fun
I've saved the most important one until last. Have fun! Fill your year with fantastic things and enjoy creating memories that will last forever. Don't turn down an opportunity to do something great unless you have to, make your year the best it can be and don't surround yourself with any negativity.
If you follow these steps, you're giving yourself a better chance at having a superb year and you might just find a determination within yourself that burns brighter than ever before. Bring on 2017!