Young entrepreneurs, judges, investors and spectators flocked to 250 Bishopsgate in Central London on Tuesday 15th November for the Grand Final of the NACUE Varsity Pitch Competition 2016.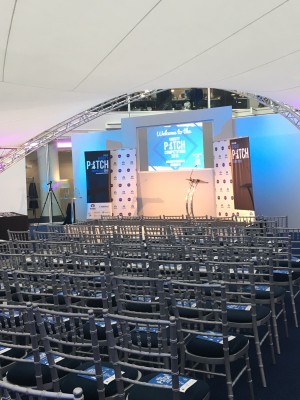 Our seven hopefuls had seen off stiff competition at this years semi-finals at Google Campus nearly 4 weeks earlier and were hoping to impress the judges one final time. The quality of the applications were higher than ever and the judges found the decision making process challenging. Holly Knower, NACUE Chief Executive introduced the afternoon welcoming everyone to our seventh competition. She said: "The attitude and determination we've seen from this years finalists has been absolutely outstanding. This years competition really represents some of the most innovative and multi-stage startups within the UK - they should all be incredibly proud of themselves." We were welcomed by NatWest's, Entrepreneurial Development Manager - Chris Kettle who highlighted the need for innovation and showcased the exceptional support available through their Entrepreneurial Spark programme. We were delighted to be joined by a highly influential, knowledgeable and varied panel of esteemed judges. Ashish Gangrade, Assistant Vice-President/ Project Tata Industries, India; Alex Richie, CEO and founder of The Arc Agency; Rasha Khawaja, CEO and Founder of Toucan; and Claire Burke, Editor of The Guardian's Small Business Network. Each of our seven finalists had 2 minutes to showcase the innovation, market opportunities and financial viability of their startups. They were then probed for 5 minutes of challenging questions from our highly knowledgeable judges.
The Pitches
Diana Florescu, Co-Founder of TakeMeOut was first to pitch the teams online marketplace, designed to connect small and independent restaurants with local customers through interactive flash sales. Having received over 1500 votes for this years People's Vote with Lloyds Banking, the team triumphed their way through to the finals.   Ryan Robinson of AEROPOWDER was next to take stage, demonstrating their ingenious development of useful products from waste chicken feathers.   Bui Smooties founders Haddy Tamedou and Isatou Camara were the third up to showcase their developing concept of healthy drinks, poised for today's healthy living market. They collectively shared the hidden health benefits within the African super fruit, Baobab which they are hoping will become the next popular drink within the UK. The duo from Double Dutch delivered a confident pitch in profiling their luxury tonic waters for the competitive beverage industry. With unique flavours of Cucumber & Watermelon and Pomegranate & Basil, the Netherlands twins are committed to revolutionising the industry within the twenty-first century.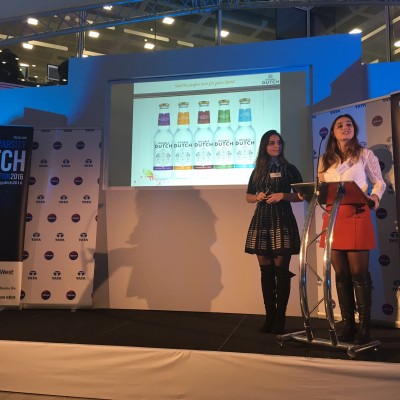 Image above: Joyce de Haas & Raissa de Haas
Fifth up was John Cassidy presenting OneTest, a Cambridge based medtech device start-up developing a novel method of tracking response to therapy for a wide range of cancers.  Penultimate pitch to the judges was Lister Rossel in the Digital and Technical Category. He is solving problems for emerging, talented music artists with his company RJam app, which allows musicians to create collaborative music by distance through multi-track videos in simple steps. Last, but certainly not least, Jamie Rawsthorne and George Sanderson, Founders of Unique Insights showcased their unique platform which identifies students most likely to dropout from university.
The decision
After an hour of discussion and debate, Dr David Landsman OBE, Director of Tata Limited - proudly announced AEROPOWDER as this year's Varsity Pitch winners.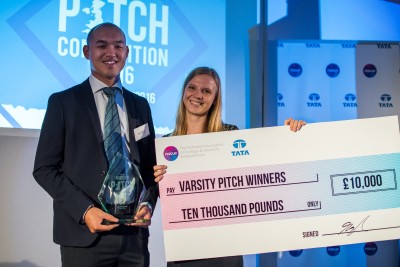 Image above: Ryan Robinson & Sina Dupslaff
Speaking about their decision, Ashish Grangrade of Tata said: "It was a very challenging decision, we went overtime when making a decision. I think all of the ideas are very strong and all of them have very big chances of success but we were attracted to Aeropowder because they are innovative, going after a large market and are very sustainable." Ryan Robinson also explained how excited he was to have won, 'Winning the NACUE Varsity Pitch Competition is great because it shows that other people take our message about sustainability and reusing waste so seriously. There's a lot of hard work left to do, but feeling proud to have achieved this win". The judges were also keen to recognise OneTest as runners up, emphasising how impressed they were with the product. "One Test are clearly a very clever team and really impressive with what they have achieved. The innovation that is taking place is outstanding" said Alex Richie. NACUE would like to thank everyone who has supported this competition. From our major corporate partner Tata who have offered their time, knowledge and advice, our venue host NatWest to our category sponsors Microsoft, Lloyds Banking Group, Swiss Re, The Rain Gods and the University of Westminster, not forgetting all of the judges and mentors who gave up their time to nurture the next generation of entrepreneurs. We would also like to thank our media partners who have supported this years event in a number of forms, particularly Upstart who supported photography throughout the course of the day. We're now looking forward to the Student Enterprise Conference in March. See you all there!