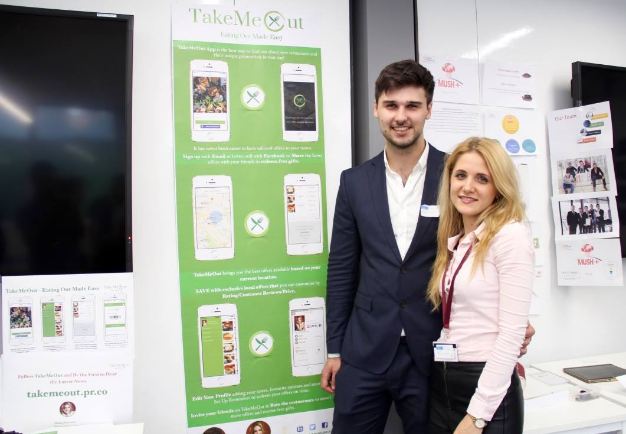 Co-founders, Diana Florescu and Maxim Antoci reveal 'TakeMeOut' a startup ready to revolutionise the small restaurant sector.  TakeMeOut is a simple and intuitive App which makes Eating Out Easy. For small, independent restaurants it is a cost-optimisation service which enables them attract new clients during off-peak hours generating instant, customised flash promotions. For customers like you and I, TakeMeOut is the best way to find out about new restaurants and their unique promotions in that day! Small restaurants are rarely started by business professionals; they do not have adequate resources to sustain short term losses, avoid food waste and retain loyal customers. The costs of food waste in restaurants is forecasted to grow to 766.3 million British pounds in 2016 whilst the costs to acquire a new customer are five times more than to retain them. For customers, Eating Out is expensive…However, Eating in is not so attractive, is it? You simply do not have time to find a good place to eat; You are a Picky, Selective Eater and wish to see the dish before ordering; You're usually searching high and low for a friend to dine out with; We have the vision to create a simple and intuitive App which makes Eating Out Easy. TakeMe-Out will be the next BIG Thing helping you find out about the latest restaurants in town and their best offers. Diana says:
"I have had the chance to attend international conferences and tech events all around the world where I got familiarised with the Boost Stand concept. I must say that the Big Ideas Competition exceeded my expectations. The Big Ideas Competition encouraged me to test the idea, showcase our work, and pitch to anyone who was interested in knowing more about TakeMeOut. It was an amazing opportunity to network with other students, entrepreneurs, investors and business people, all gathered under the same roof!"
TakeMeOut is counting on their followers to vote for them in the Varsity Pitch in order to get their pitch fast-tracked to the finals, and win this competition. "We need volunteers to help us with our efforts of validating the concept and speaking to restaurants, and the University of Westminster is the first place to look for enthusiastic students willing to give us a hand. We also know that we have brilliant students studying computer science including coding, Web and App development, and we will be welcoming their applications to join our team throughout the summer." TakeMeOut have been automatically fast tracked to NACUE's Varsity Pitch Competition Semi Finals as part of their involvement within the Big Ideas Competition at the University of Westminster. The pair were successfully awarded funding to support their startup concept having networked with peers, students and investors throughout an event at the university on Wednesday 8th June 2016. You can see more about their business in their pitch video below, and vote on their profile by clicking here.