Yesterday some of the UK's brightest entrepreneurs headed to Google Campus in London to pitch for their place in the NACUE Varsity Pitch Grand Final taking place on Tuesday 15th November 2016. The Varsity Pitch Competition invites students and graduates to pitch their business ideas for the chance to win £10,000 equity free cash.
Thirty competitors across six categories had just  two minutes to pitch and two minutes of questions in order to impress our esteemed judges with an array of expertise and specialisms. The competition is now in its seventh year and the quality of the pitches and ideas are higher than ever.
Creative and Design
The Creative and Design Category sponsored by The Rain Gods were first up to pitch, bright and early on Tuesday Morning. Compelling performances from mixer focused, Double Dutch who are developing innovative combinations to accompany the UK's ever growing choice of spirits, which were later complimented by the story of KamAlive Chocolate's healthy organic chocolate. Online Art Commission platform, Hire an Artist shared their challenge to make artwork accessible to everyone, Hoohair demonstrated their revolutionised platform to radically transform the hair and beauty appointment booking system, as well as The New Craft House bringing innovative arts and crafts to a new generation and market.
The judges, Melanie Loizou, Director of Fish Climb Trees, Elishba Zachariah, Careers and Entrepreneurship Consultant, and Stephen Kramer of Swiss Re, were incredibly impressed by all the pitches. Double Dutch duo, UCL alumni, were highly commended for their performance and will be proceeding onto the finals.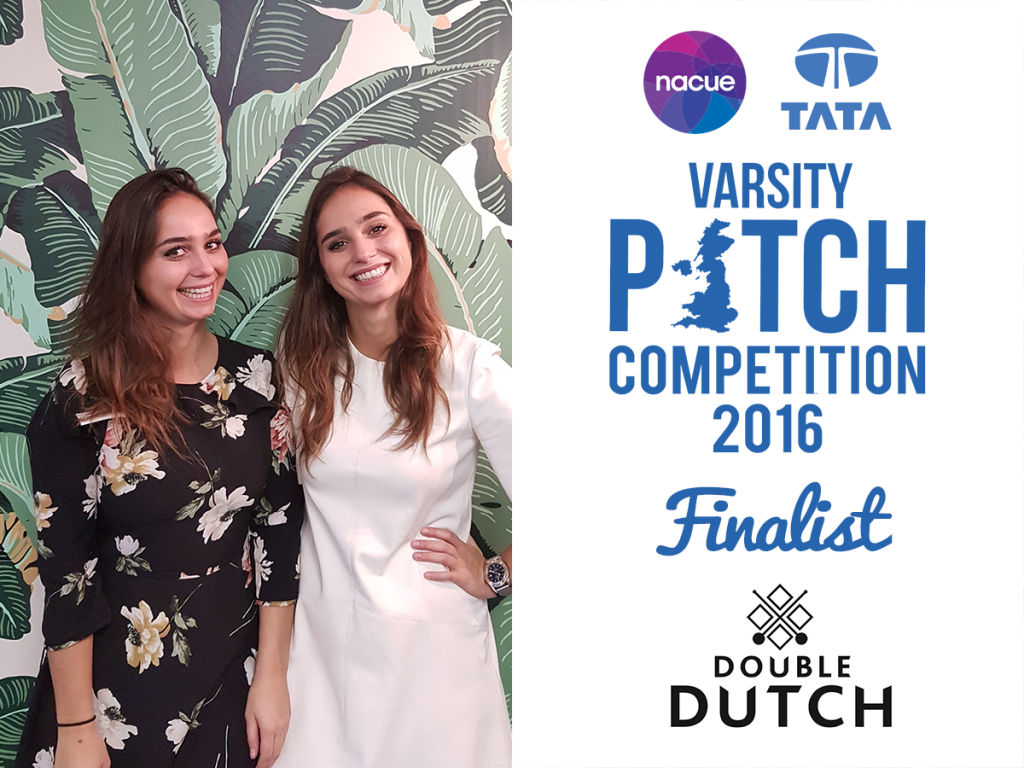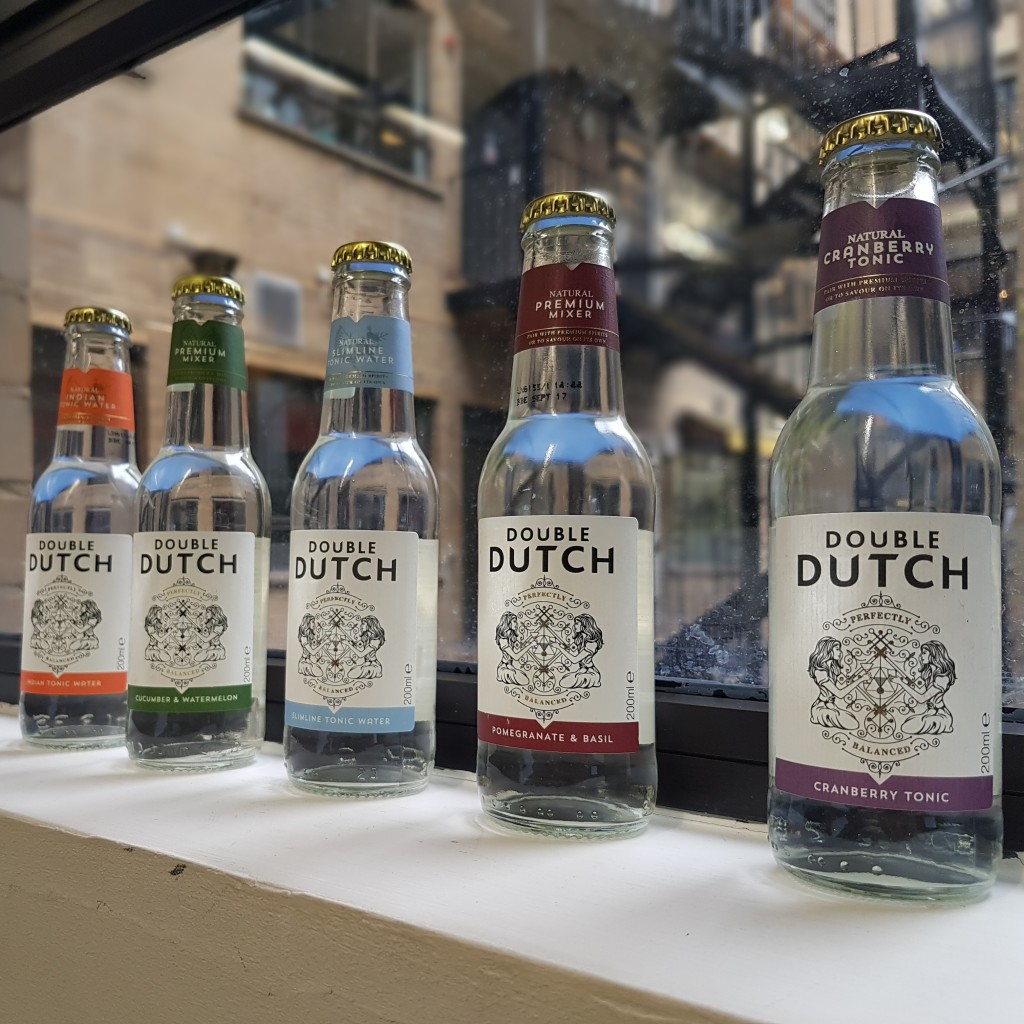 Digital and Technical
Digital and Technical sponsors Swiss Re, were offered the final morning presentations from AlgoLib a cloud based data analysis platform created by the community for the community, competing for a spot in the finals against software based solution for the hospitality industry, Minibarra and collaborative music platform, RJam who is changing the way that artists connect and create music within the 21st century, Frobo who are changing the way personal financial guidance is provided and MicroSpray Technologies Ltd who are revolutionising particle manufacturing using multiplexed nozzles.
The judges felt that Lister Rossel founder of RJam, from the University of Westminster were the worthy finalist of this years Digital and Technical Category.
Speaking about their decision, Stephen Kramer  from Swiss Re said: 'This is the perfect time for RJam to be entering into the market.'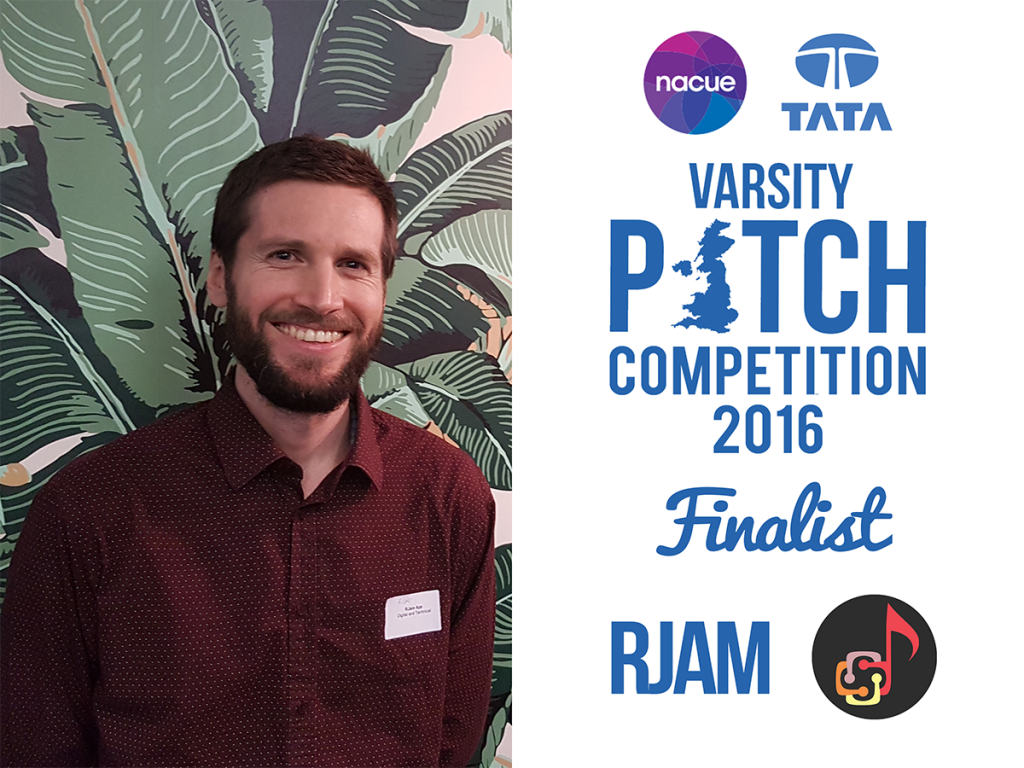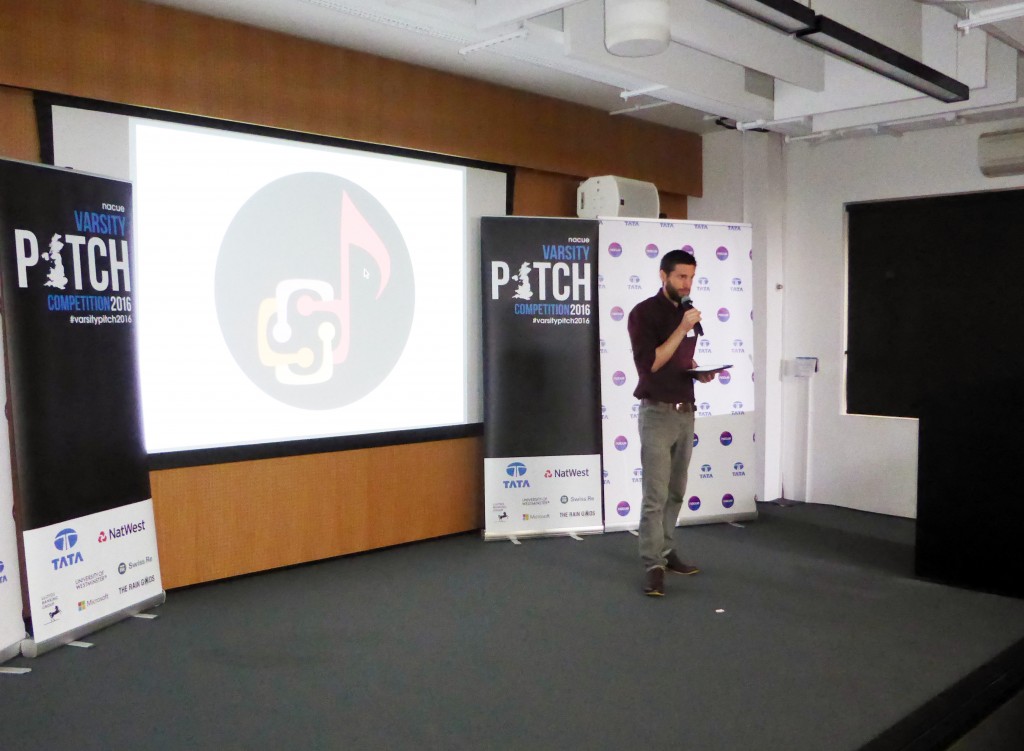 Genuine Innovation
Next up was Genuine Innovation, supported by Microsoft, pitching to Stephen Barnett, Founder of Catalyst Founders, Erinn Kinnee from Shell LiveWIRE and Jacques de Cock, CEO of BQu. Cycl pitched their WingLights for bicycles, Felix Hammer showcased his company Buzzer Feedback, Elemental Therapeutics showcased their technology supporting the administration of drugs orally and Unique Insights pitched on identifying and preventing students dropping out of university.
After difficult deliberations, the judges chose Unique Insights from The University of West of England, Bristol as their winner proceeding onto the finals on Tuesday 15th November 2016.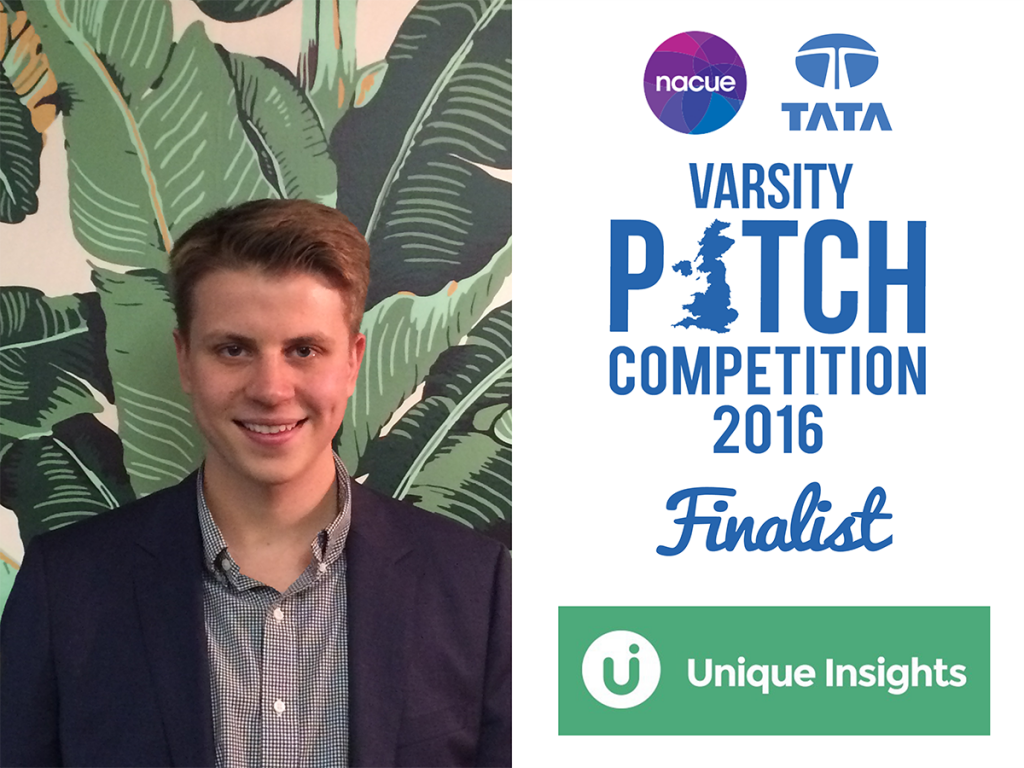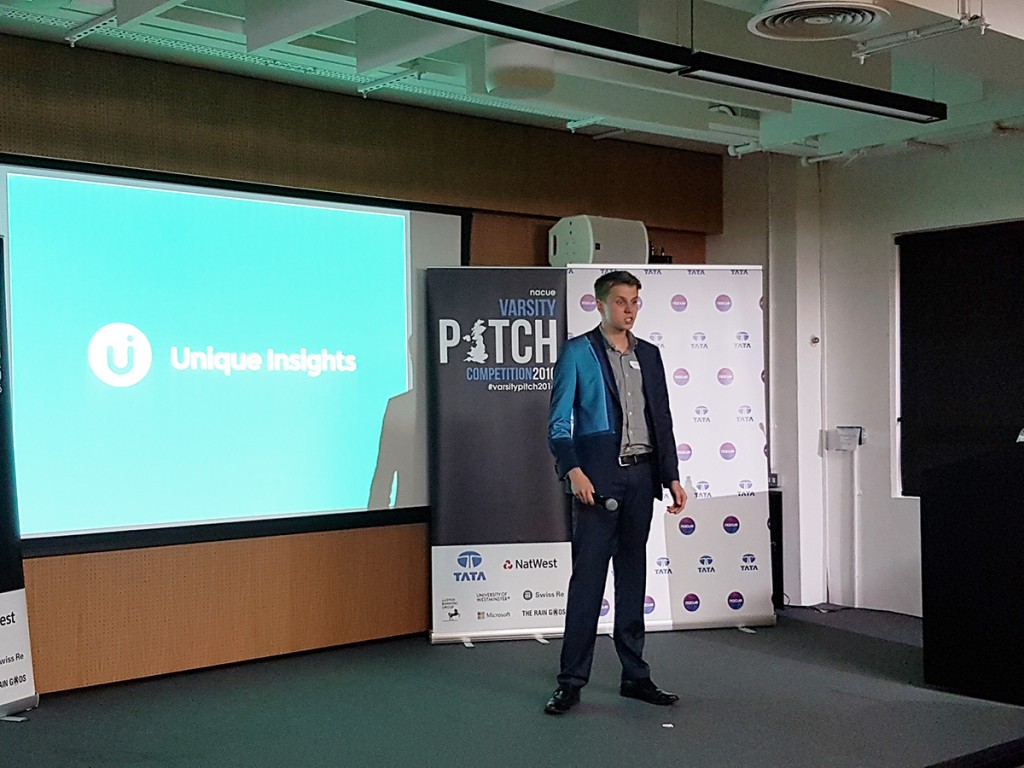 Ideas
Next up were our 'Ideas' of early stage entrepreneurs, looking to progress throughout the competition to strengthen their business concepts. Yuxin Jiang pitched her developing online platform for university degree shows, Mujde Esin, entrepreneur from the University of Westminster, pitched Kizcode that is using technologies to empower females in underprivileged communities. Founder of Turtle Pack introduced life saving flotation device, Green Planet Venture Ltd offering youth opportunity programmes for rain forest conservation, and we heard how baobab extract is utilitsed in Bui Smoothies.
In the end it was young entrepreneurs Isatou Camara and Haddy Tambedou who wowed the judges with their company Bui Smoothies who will be representing the Ideas category in the finals.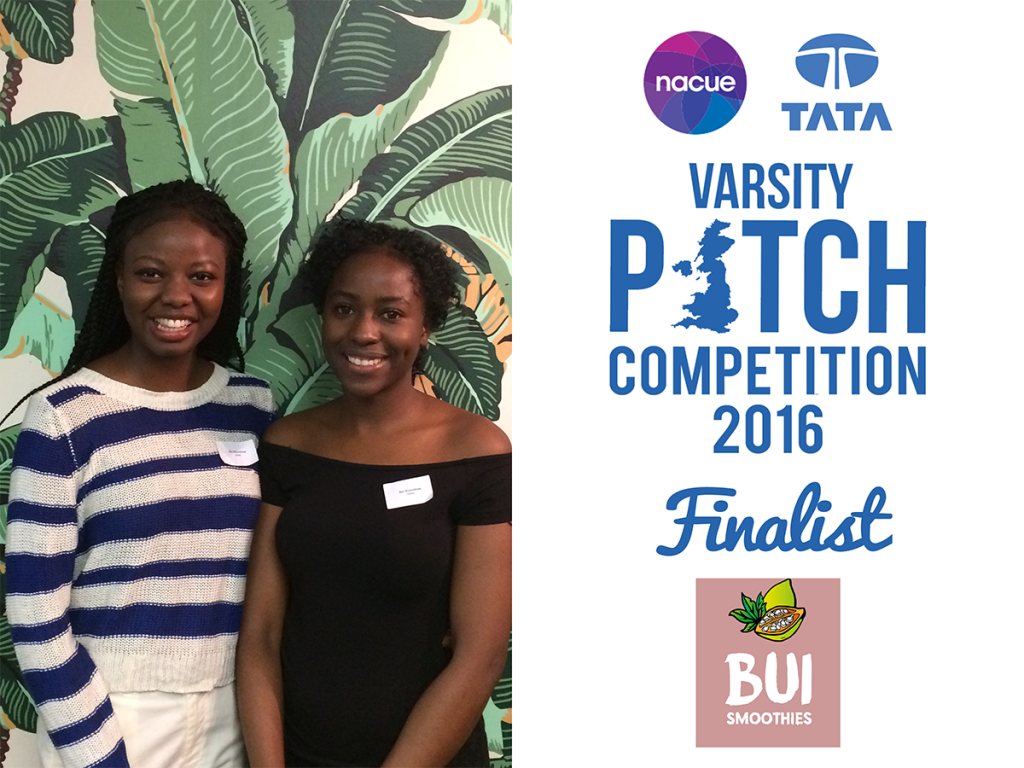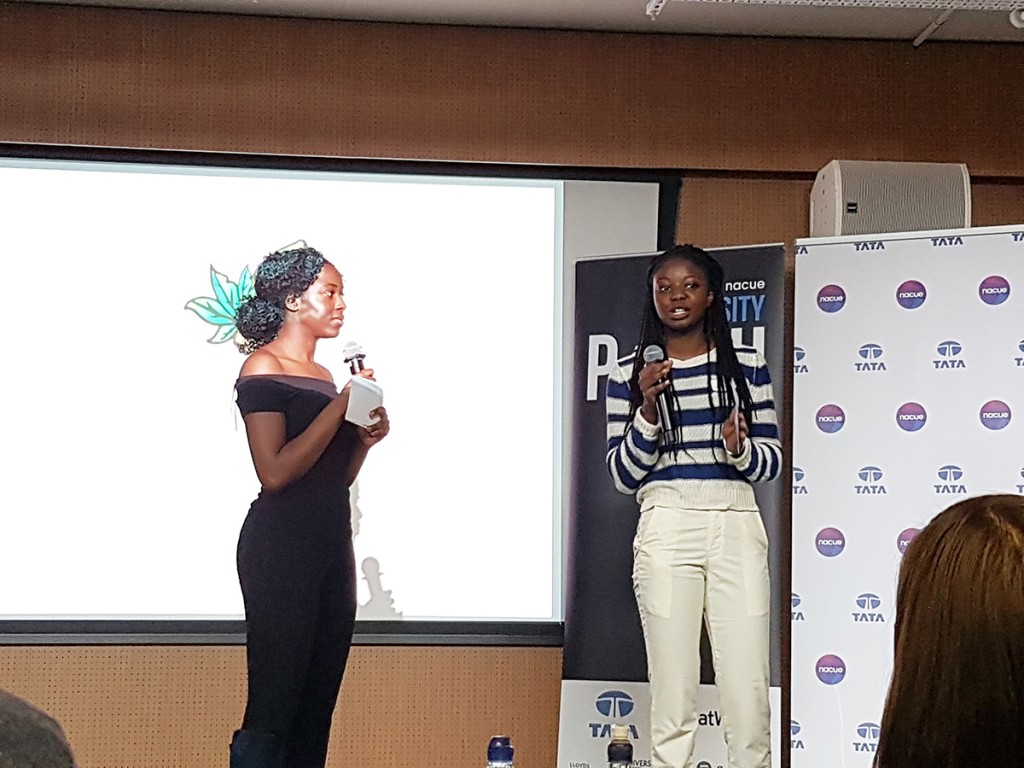 Tata Social Impact
It was a pleasure to welcome Jonathan Carrier, Head of InMotion; David  Booth, Founder in Residence at InMotion and Mr Tofayal Amhed, Corporate Affairs Executive  to judge this category.
Elena Dieckmann was first up in the Tata Social Impact Category, pitching AEROPOWER, their creation of sustainable functional materials from feathers, followed by Frecibo by Aaron Conway. UniGreenScheme impressed the judges with their scheme to generate revenue and recoup space for UK universities and returning founder, Lise Pape presented Walk with Path's most recent developments. Last but not least to present was Bradley Heslop of Wessex Social Ventures Company, designed to aid assistance in communities living on less than $3 per day.
Tata were seriously impressed by all of the entries but it was AEROPOWER of Imperial University London that won the Tata Social Impact category and secured a place in the Grand Final.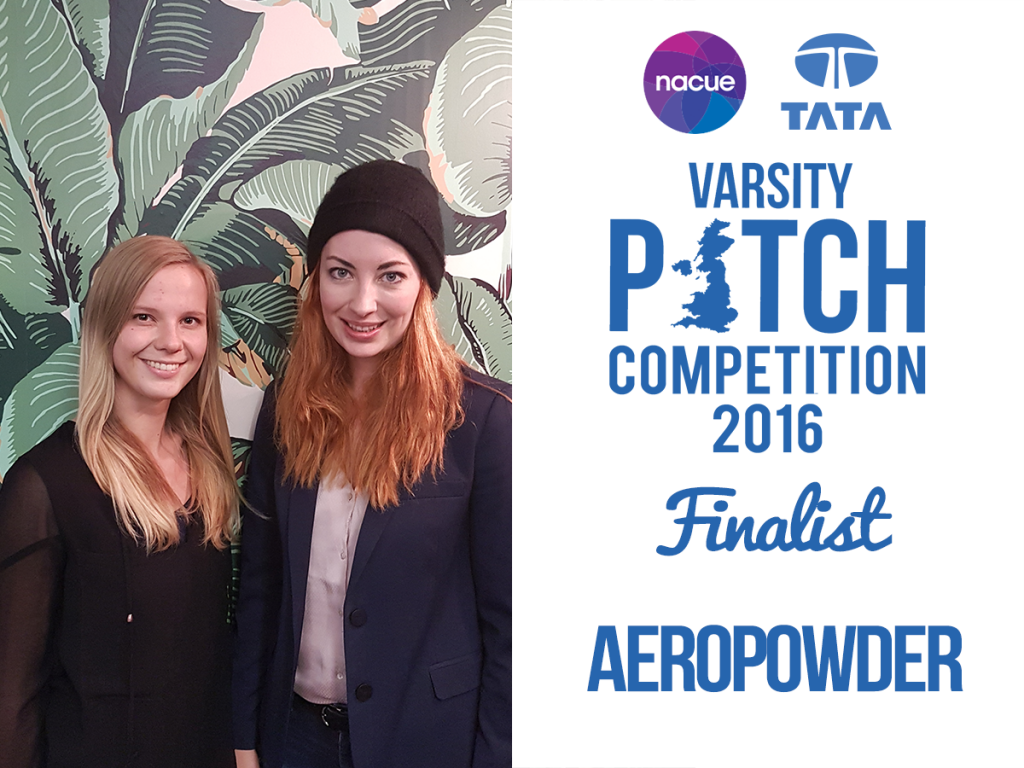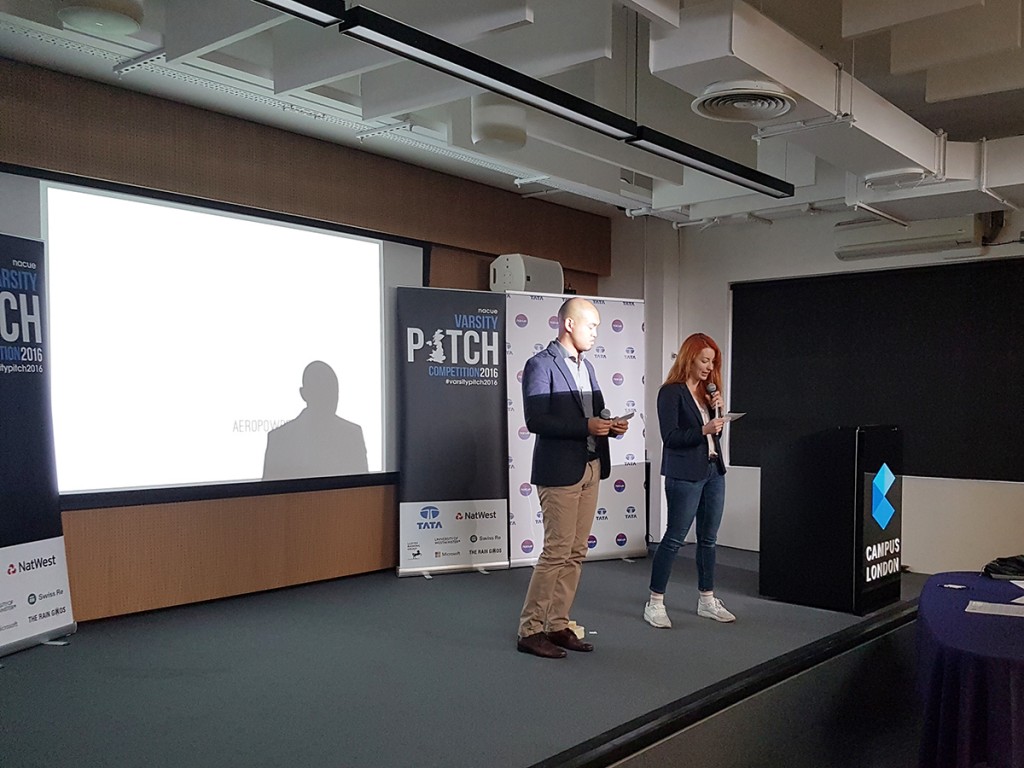 Tata Disruptive
The Tata Disruptive category was the most competitive category of all, with the highest number of entries.
Olivia Higgs enlightened the judges how KOMPAS is revolutionising the way we travel through the use of artificial intelligence, followed by medtech startup NGSafe's diagnostic test supporting the placement of Nasogastric Feeding Tubes. Torsten Sherwood demonstrated the creativity behind noook, a large-scale construction toy giving children the opportunity to shape their own space. OneTest showcased their novel method of tracing therapy for a wide range of cancers and finally, Phil Sandwell of Orrja presented their innovative social enterprise designed to provide clean energy in rural communities in India.
After some serious deliberation and debate, Tata were pleased to announce One Test from the University of Cambridge as their category winner.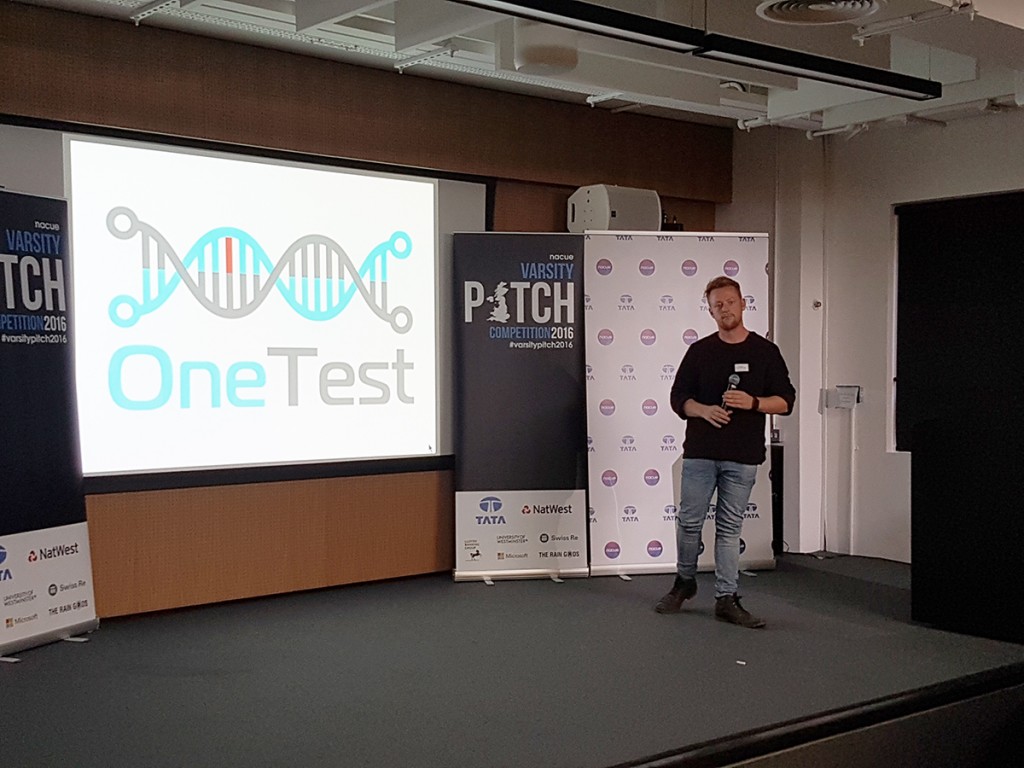 NACUE would like to thank Tata for all of their support, our sponsors Natwest, Microsoft, University of Westminster, Swiss Re, The Rain Gods and Lloyds Banking Group; the judges for giving up their valuable time, our supportive category sponsors   and our brilliant competitors.
All finalists, including the duo from TakeMeOut who won the People's Vote with TakeMeOut, will be honing their business plans and pitches at our Bootcamp on Wednesday 2nd November before the Grand final on 15th November at the RBS building Bishopsgate. Register your interest to attend here.