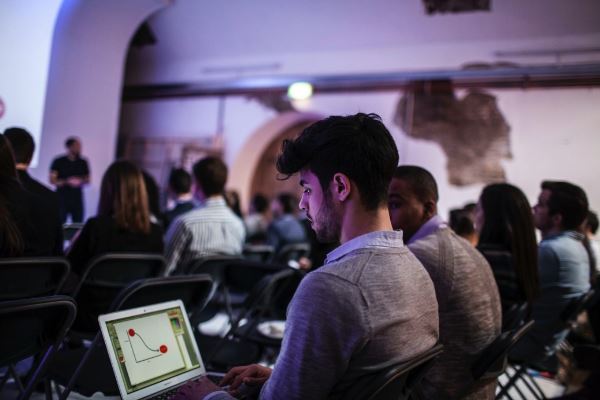 We know you're busy. But we also know you're looking for advice, inspiration and motivation. That's why we've created a list of books, blogs, and twitter accounts. So whether you prefer curling up on the couch with a good book, reading a personal blog post, or being inspired in 140-characters-or-less, you can get what you need – no matter your style.
Twitter Accounts
For those always on the move - offering articles, events, and even just daily short words of wisdom to those needing a little inspiration.
@

AliBrown

- An entrepreneur herself, Ali Brown specifically aims to inspire women entrepreneurs everywhere. However, she frequently tweets inspiring quotes and articles that both genders could benefit from.
@

neilpatel

- Neil Patel: Columnist for Forbes, Inc., Entrepreneur, Huffington Post and more, Patel tweets articles to provide inspiration, advice and resources.
@

SmallBizLady

- Author, blogger and startup owner, Melinda Emerson was voted by Forbes to be one of the most Influential Woman for Entrepreneurs on Twitter.
@

tonyhsieh

- CEO of Zappos.com, Tony Hsieh provides articles and links to some useful resources for young entrepreneurs.
@

YoungEnt

- Part of the "

Entrepreneur

family," young ent shares articles more focused towards the emerging generation of entrepreneurs.
@

NACUE

- Last but not least, in case you aren't already, follow our company's own Twitter to keep up to date with our new blog posts and hear about the latest events and opportunities we have to offer
Blogs
Experience is life's teacher - but it doesn't hurt to learn from the experiences of others. These bloggers are entrepreneurs, businessmen, columnists, etc offering valuable lessons from their personal experiences in the field
"

@andrewchen

" - Employed at Uber, Andrew Chen's blog posts revolve mainly around "metrics and growth" - important things to consider when looking to expand your company.
"Behind the Biz"

column by Meg Biram - As the name implies, the column aims to provide a "behind-the-scenes" look at running your own business, done through an interview-style conversation. Discover where inspiration came from for well known startups and learn about their everyday trials and tribulations, and the lessons learned along the way.
"

BizBritain

" - Looking to start a business on a budget? Joining the free BizBritain network will provide you with all sorts of articles related to helping your business progress!
"

Business Accelerator

" - These posts are mainly focused on providing advice to those who are just starting up, and for those who are looking for a little extra help with their online marketing strategy.

"

Business Wings

" - Aimed specifically towards budding entrepreneurs and small business owners, Business Wings provides advice and inspiration through interviews with other entrepreneurs and small business owners.
"

For Entrepreneurs

" by David Skok - Skok's blog offers "tactical advice on key issues that founders and their teams face" when getting their business started. Specific tabs clearly indicating different topics can be found at the top of the site, making it easy to navigate and find exactly what you're looking for.
"

Joel.is

" by Joel Gascoigne - Written by the CEO of Buffer (a social media management startup), Joel provides a lot of transparency into his business, but also into his personal life. An interesting read, especially the post regarding his travels to 11 cities in 3 months.
"

Quick Sprout

" by Neil Patel - Recognized around the world as an impressive entrepreneur and business owner, Patel's blog is full of short, easy-to-read, "how-to" type articles that address all aspects of owning a business.
Books
For those who prefer to physically flip the pages, books are a great resource. This list of books encompasses a collection of genres - memoir, inspirational, and how-to books, to name just a few.
"Creativity, Inc.: Overcoming the Unseen Forces that Stand in the Way of True Inspiration" by Ed Catmull - Feeling stuck in a rut? Looking for some new ways to spark creativity? This book is filled with helpful insight into what creates and drives that innovative culture that entrepreneurs strive for.
"The Four Steps to the Epiphany" by Steve Blank - More of a "how-to" book, it provides the steps to plan and execute the "sales, marketing and business development for a new product or company" - some great reading for entrepreneurs!
"The Hard Thing About Hard Things: Building a Business When There Are No Easy Answers" by Ben Horowitz - Considered by some to be one of the "most respected and successful entrepreneurs," Horowitz uses anecdotes from his own personal experience to provide insight, inspiration and helpful hints to budding entrepreneurs.
"How to be a Student Entrepreneur" and "Young 'Fed Up' Professional" both by Junior Ogunyemi - His first book explains how students can stay students but still make time to be entrepreneurs on the side. In the second, it moves a step further and tells of ways that people can leave their 9-5 and be entrepreneurs full-time instead. Junior spoke at our Student Enterprise Conference 2016 and he was definitely an inspirational character.
"The Promise of a Pencil: How an Ordinary Person Can Create Extraordinary Change" by Adam Braun - Scared of taking the leap from your typical job to running your own company full time? Let Braun's story inspire you. Originally running his education nonprofit only after his typical work hours, this Brown University graduate eventually left his office job to run it full time.
"The Startup Playbook: Secrets of the Fastest-Growing Startups from their Founding Entrepreneurs" by David Kidder - The title says it all. Kidder interviews 40 founders to give readers advice on all topics, varying from developing the original idea to confronting and overcoming obstacles your company will inevitably face.
"Think Like a Freak" by Steven D. Levitt and Stephen J. Dubner - Interested in trying out a new way of thinking? Authors Levitt and Dubner claim to have a "blueprint for an entirely new way to solve problems." Give it a try yourself!
"Unbroken: A World War II Story of Survival, Resilience, and Redemption" by Laura Hillenbrand - Although not specifically a book about entrepreneurship, this book stresses the importance and occasional necessity for personal sacrifice, survival and resiliency - all traits similar to those an entrepreneur might have to occasionally embrace as well