My name is Mark and I was the HE Delivery Manager at NACUE for nearly two years. My mission? To power the enterprising generation by encouraging students and enterprise societies to seize the opportunities available at university.
The Student Enterprise Conference (SEC) is a great celebration of this. The SEC is an annual event celebrating student entrepreneurs, giving them opportunities to develop skills and networks, whilst having a fun weekend after their (most likely stressful) exams. For me, the SEC provides some of my favourite memories of working with NACUE. The SEC is the only real chance for students from across the country to get together to explore entrepreneurship on such scale. In Liverpool last year, we welcomed over 700 students from Plymouth to St. Andrews - where else would you have the chance to meet so many incredible speakers alongside students from across the UK? Over the years, it has become a great chance to meet up with connections, demonstrated by the number of graduates who attend to see old faces and share their journey. One of my favourite moments of attending the SEC was the Q & A session with Matt Freckleton in 2014, former President of York Entrepreneurs and co-founder of Yatterbox. It was fascinating to hear Matt's story from building a network through to being bought out - but it was the questions from the audience that really stood out. It was awesome to see so many engaged students asking questions and arranging meetings afterwards
Those of you who attended The SEC 2015 in Liverpool would have got a firm kick up the backside from Tim Barnes of UCL, when he took to the stage impromptu and gained a massive round of applause for his motivational message. That is the kind of magic moment that makes the weekend so special. The buzz and excitement of students meeting with like minded peers, arranging events, meeting exhibitors and swapping contact details really is unmissable. The SEC sends you away with the mindset that anyone can do this! Whether you're an art, computer science or geography student, there are no barriers to making the most of opportunities, especially while you are in education.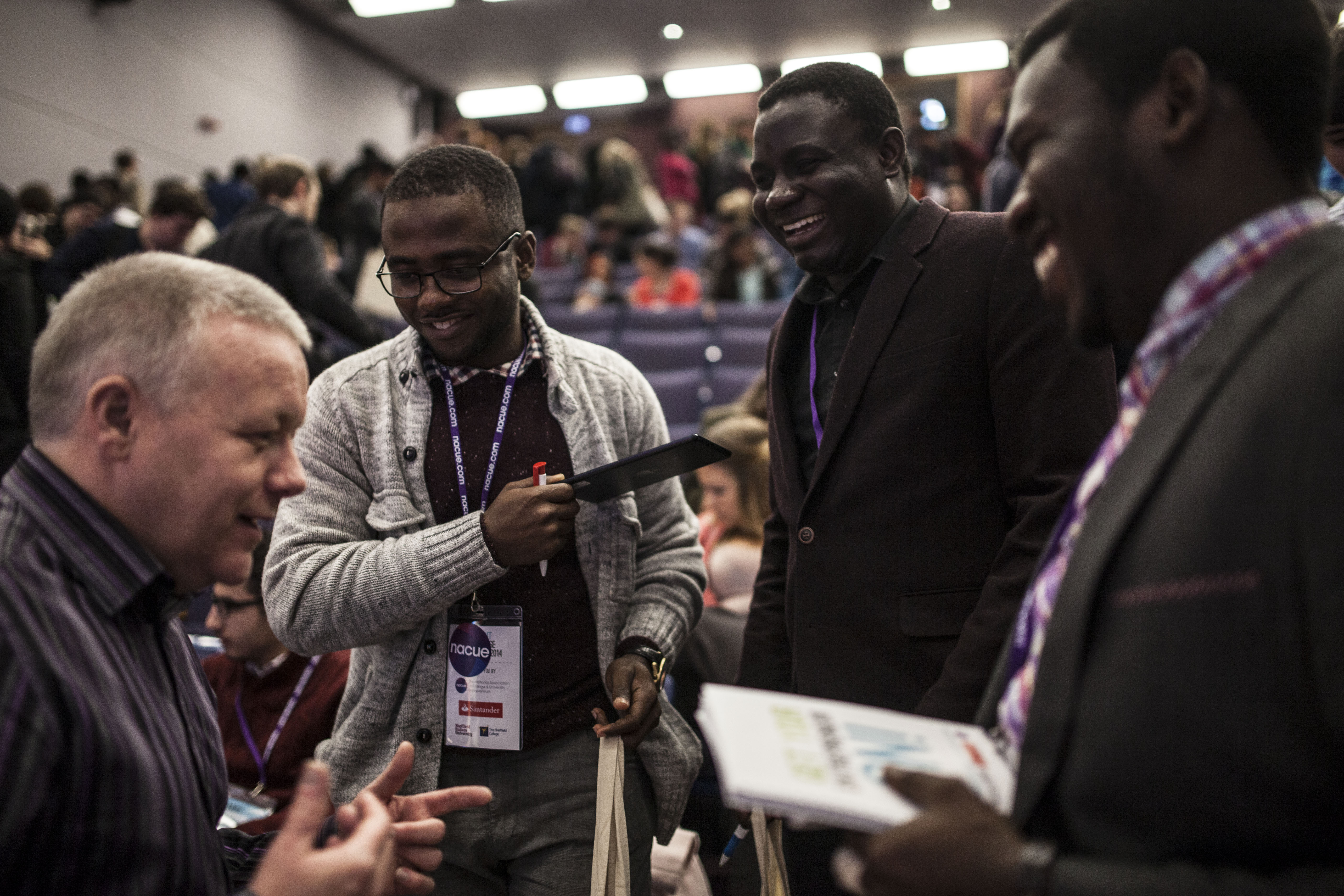 If this will be your first time attending the SEC my top tips would be:
Take a spare battery pack for your phone (social media + linking up on Linkedin) and a note pad.
Opportunity doesn't often knock twice! Exhibitors, students, speakers or even the NACUE staff might be able to help you with your next step on your journey. You are with these people for one weekend a year, go and ask for an email or even a selfie!
Ask the questions you really want the answers to: you are young, ambitious and enterprising, that is hard to say no to, so go with my motto; "Don't ask, don't get!"
Have fun! It is a celebration after all and you're much more likely to build new skills and relationships if you are having a good time.
Follow up after the event with the contacts you have made to see how you can help each other.
I love the friendly and energised atmosphere of the SEC and I remain in the environment trying to help people on their own journey where I can. I am always reachable on @MrMarkDavies The Student Enterprise Conference 2016 is at UCL in London on 20th-21st February. Find out more and get tickets here.