Young entrepreneurs, judges, investors and spectators flocked to the China Exchange in Central London yesterday for the Grand Final of the NACUE Varsity Pitch Competition 2015.
Our nine hopefuls had seen off stiff competition at the semifinals one week ago and were now hoping to impress the judges one final time. The quality of the applications were higher than ever and the judges found the decision making process challenging. Johnny Luk, NACUE Chief Executive introduced the afternoon welcoming everyone to our sixth competition. He said: "All of these applications are solving problems and changing the world, it's so inspiring. Everyone should be really proud of themselves." We were then treated to opening talks from Lord Wei of Maker Wharf and Andrew Devenport, CEO of Youth Business International, spearheading the Global Entrepreneurship Week campaign. We were also honored to have a stellar judging panel made up of David Landsman, Executive Director of Tata Ltd., Andrew Webber, Senior Audience Marketing Lead at Microsoft UK, Claire Burke, Acting Editor at the Guardian Small Business Network and Ian Macleod, Marketing Director at YPlan.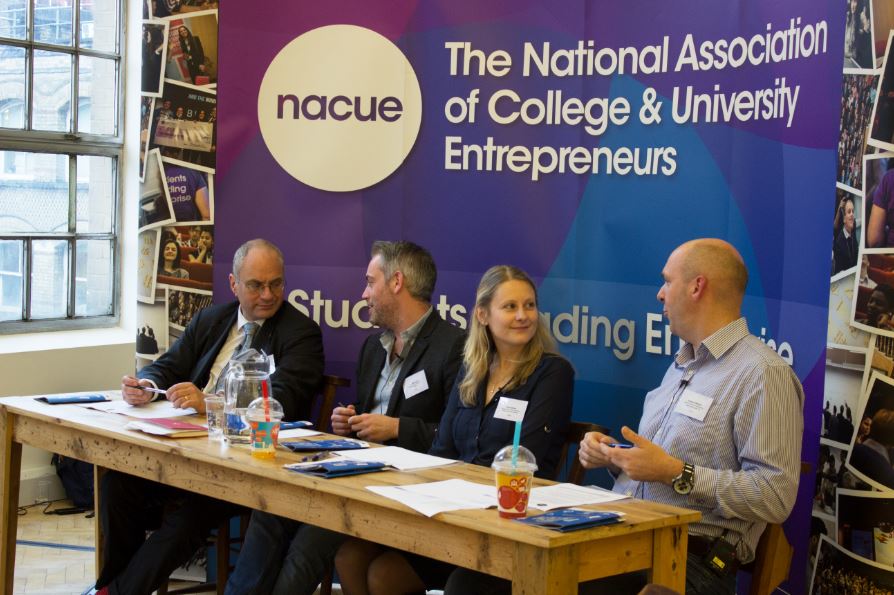 The judges grilled the contestants with some challenging questions, who were all given 2 minutes to pitch and 4 minutes to answer any questions.
The pitches
Thomas and Michael of Adaptavate were the first to pitch their Breathaboard, an alternative to plasterboard creating healthier people in healthier homes.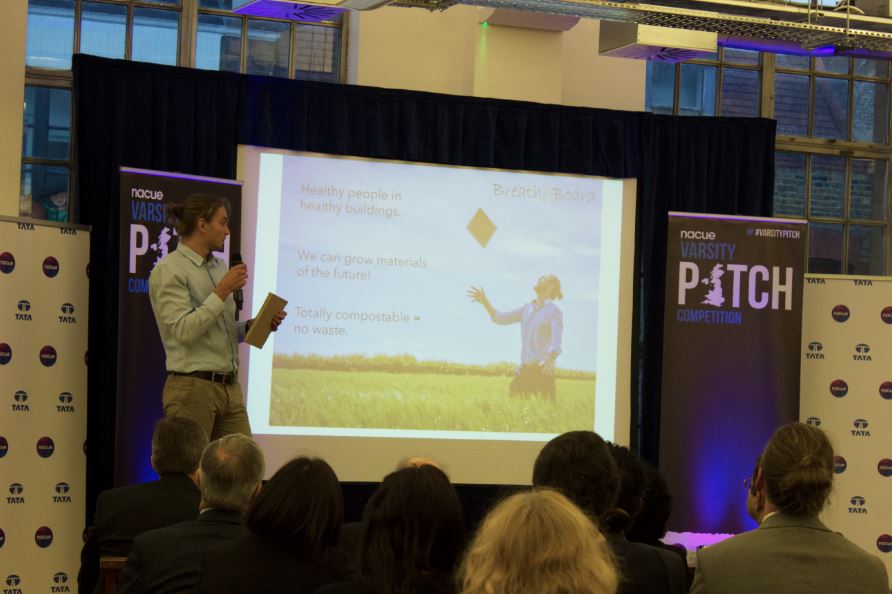 Peter Spence was next to face the judges, demonstrating his company Tio who produce innovative app-controlled toys to help children play, learn and create. Choosic founder Alessia Sannazzaro followed, explaining their music discovery app that already has over 35,000 users. Think of Tinder but for music! Fourth up was Thomas pitching Sober Drive in the Young Founders category. The judges were impressed with their breathalyzer car key, particularly because the technology is calibrated against police devices. Edward Miller gave a confident pitch of his company Medical Realities in the Microsoft Genuine Innovation category. He explained how his team are working to provide low cost surgical training to medical students using virtual reality. Damiano La Rocca pitched Seable Holidays next in the People's Vote with Lloyds Banking Group category. He won with a total of 1,474 votes for his company that offers active holidays for visually impaired and wheelchair users. Seventh in line to pitch to the judges was Amanda Campbell in the Tata Disruptive category. She is solving problems for festival goers with her company Comp_A_Tent that create affordable, compostable tents. Penultimate pitcher was James Popper in the Tata Social Impact category, pitching Sinclair Fire. They are using break-through technology to prevent fires, including a disruptive fire detector that uses infrared to respond to fires rapidly. Last, but certainly not least, Lise pitched her company Walk With Path who produce products that prevent falls and improve mobility for those with sensory deficit.
The decision
After an hour of discussion and debate the judges were thrilled to announce Tio as this year's Varsity Pitch winners.
Speaking about their decision, David Landsman said: 
'We thought Tio was more than just another tech toy, but a really exciting business.  It's based on some great innovative technology and has the needs of its customers – children and their parents – firmly in mind.   The platform is versatile, offering the business the scope to develop new products and keep ahead of the competition. The business plan we saw was well thought through.   But for me at Tata, what was most attractive is that Tio could really contribute to enthusing young people about engineering and be a thoroughly enjoyable part of their STEM experience.'
Peter also explained how excited he was to have won.
'I feel firstly ecstatic, secondly surprised and also very privileged to receive NACUE's award. The £10,000 will help us with getting the word out about Tio, putting on more workshops to receive feedback and to create more prototypes.'
The judges were also keen to recognise Sinclair Fire as runners up, emphasising how impressed they were with the product. 'We expect to have one of your fire alarms in our homes in the not too distant future' said David.
NACUE would like to thank everyone who has supported this competition, we couldn't do it without you. From our partners Tata who have offered their time, knowledge and advice, to our sponsors BVCA, Microsoft and Lloyds Banking Group, not to mention all of the judges and mentors who gave up their time to nurture the next generation of entrepreneurs. We would also like to thank our media partners, particularly Included.co who had the challenging task of live blogging these fast paced events.
We're now looking forward to the Student Enterprise Conference in February. See you all there!