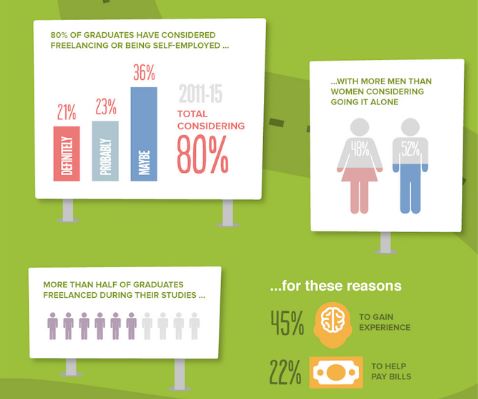 A new study into the levels of support provided by university careers department shows that many graduates are disappointed with the help they receive. In particular, there's a shortfall in the quality of support around freelancing and self-employment. The study found that:
48% of graduates felt disappointed by the support they received from their careers department in general

62% of graduates said freelancing or self-employment were not discussed at all, even though it was an option for their chosen career

A further 19% said their university discussed freelancing, but not in enough detail.
Self-employment is becoming an increasingly popular career option – it's currently at its highest level for the last forty years. This increase is also reflected among students – 56% of the graduates surveyed had undertaken some freelance work while studying.
Not adding up
These figures suggest that self-employment is not top of the agenda for many university careers departments. However, spend just a short time talking to any forward-thinking university and it's clear this isn't the case. Most universities are doing more than ever to support students. Some degrees courses even include modules on entrepreneurship. So what's going on? One possible explanation for this support gap is that university careers services are becoming too localised, with no national direction for graduate support. The study found graduates from the West Midlands were most likely to consider a freelance career, compared to graduates from the rest of the country. This suggests high levels of support in localised areas, that doesn't quite extend the length and breadth of the country.   That's all very well and good for students who end up at a university with excellent careers services. However, that's not a feature that many students actively look for when applying for further education institutions. In fact, students rarely know what they want to do when applying for universities. What's needed is consistent careers support from universities across the board.
Course of action
Providing more specialised careers support doesn't come easily – or cheap. The fact is that most university careers departments are providing the best support they can. So where's the solution? Here are a few simple suggestions to offer graduates seeking advice on freelancing – and they won't cost the earth. Check out local and national events This week (16th-22nd November) is Global Entrepreneurship Week. There are events and activities happening all around the world to promote entrepreneurship and help developing startups. Their timetable of events continues well into next year, and many are free to attend. International events like this also help tackle the localisation of guidance that can occur. However, it is worth keeping an eye out for events from local Chambers of Commerce and other organisations, as these can provide a good source of inspiration and advice for stumped students.
Prepare a portfolio
This is a good place to start for students interested in freelancing, and they can even start while they're still studying. They should get together several good examples of their work to share with prospective client – it's standard practice for a business to ask to see some before signing a contract. It's OK for students to include uni projects in their portfolio, but these should be 'real life' examples, and not too academic.
Networking for newbies
For graduates without the budget for advertising, networking is a valuable way of drumming up interest for their business. Many local businesses and organisations hold regular networking events, and there are even networking hours on Twitter almost every day. Networking can seem daunting to begin with, but students should remember that everyone else is there because they want to talk to new people. Bringing some simple business cards can help, too.
Professionalism at all times
Some graduates who go straight into a freelance career miss valuable exposure to the world of professionalism and business. Contrary to popular belief, being your own boss isn't all about working in your pyjamas. Those who want to succeed quickly find out that standards among the self-employed are higher than ever. That means proper contracts and invoices, registering business with HMRC, and keeping on top of accounts every month. There's no way around it – it can be hard work. Do your grads have what it takes? This was written by Kerri-Ann Hockley from PolicyBee. PolicyBee is a business insurance broker with a knack for covering freelancers, sole traders and brand-new businesses.